Valspar is a global leader in both consumer paint and industrial coatings. For more than 200 years Valspar have been developing paints that not only help homes and products look great, but their continuous dedication to improving products mean they are always fit for purpose. Valspar's investment in colour technology means that they can match any colour a customer is looking for in-store today.
✔ Excellent coverage

✔ No splatter


✔ Perfect for sprayers

✔ No thinning necessary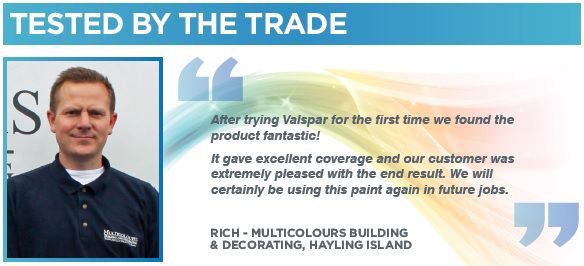 Paint mixing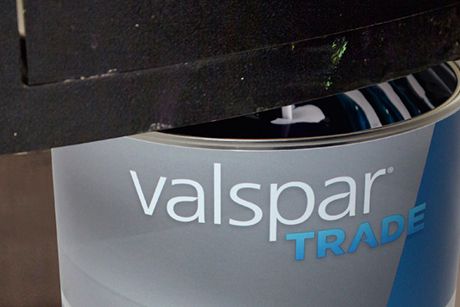 Need paint mixed? We have developed a Trade base formula specifically with the Tradesmen in mind and put it through rigorous testing to make sure it meets the standards you need...
Exceptional Wet hide – See the true and end result on application
Perfect for sprayers – No dilution required
Lower viscosity – Making application easier
Exceptional coverage
Proven durability – leaving your customers with a scrubbable finish
Exact colour matching – including BS and RAL
Can create any colour the eye can see – 2.2m colours
Tester Pots available
---
Also available in the Valspar range
Premium walls & ceilings✔ Paint, primer & undercoat in one✔ Maximum durability & super-scrub formulation✔ Available in tester posts, 1L, 2L & 5L
Premium wood & metal✔ High quality, low VOC interior paint✔ Eggshell, satin & gloss finishes✔ Available in 1L & 2.5L
Masonry paint✔ Ideal for covering masonry and other textured surfaces✔ Mould & algae resistant film✔ Protection against cracking, flaking & peeling✔ Available in 2.5L & 5L
Wood & metal trim✔ Tough & durable exterior paint✔ Mould resistant coating✔ 15 year guarantee✔ Available in 1L & 2.5L
Kitchen & Bath

✔ High quality & maximum durability

✔ Low VOC emulsion ✔ Resistant to stains, mould & mildew✔ Available in 2.5L, soft-sheen finish.
---
Pre mixed paints
Don't need colour matching/mixing? No problem. You can grab pre mixed paints straight off the shelf at your local
TradePoint store
.