Our staff
Down-to-earth service from staff who know their stuff
At TradePoint, our friendly staff are all about helping you get the job done faster, better and for less money. And hopefully with a few laughs on the way too.
Time is money
We get it - time is money when you're not on site you are not earning.
That's why we've got good people on every TradePoint counter who'll sort you out with what you need, when you need it. They're focused on and dedicated to servicing the Trade.
Deals and Extended Services
Our people know the deals that will interest you and they're just good people to talk to.
They understand the time and cash flow pressures that you're working under - and they know how to help. They'll keep you in the loop about any deals or extended services we've got that'll make your life a bit easier.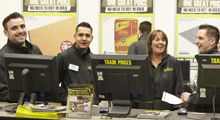 Good at what they do
We're proud of our TradePoint staff - not only are they good at what they do, they're a cheerful and friendly bunch too. Go say "Hello" and see for yourself.
About