See more Multi-purpose compost
Verve Contains peat Hanging baskets, planters, pots & seed trays Compost 50L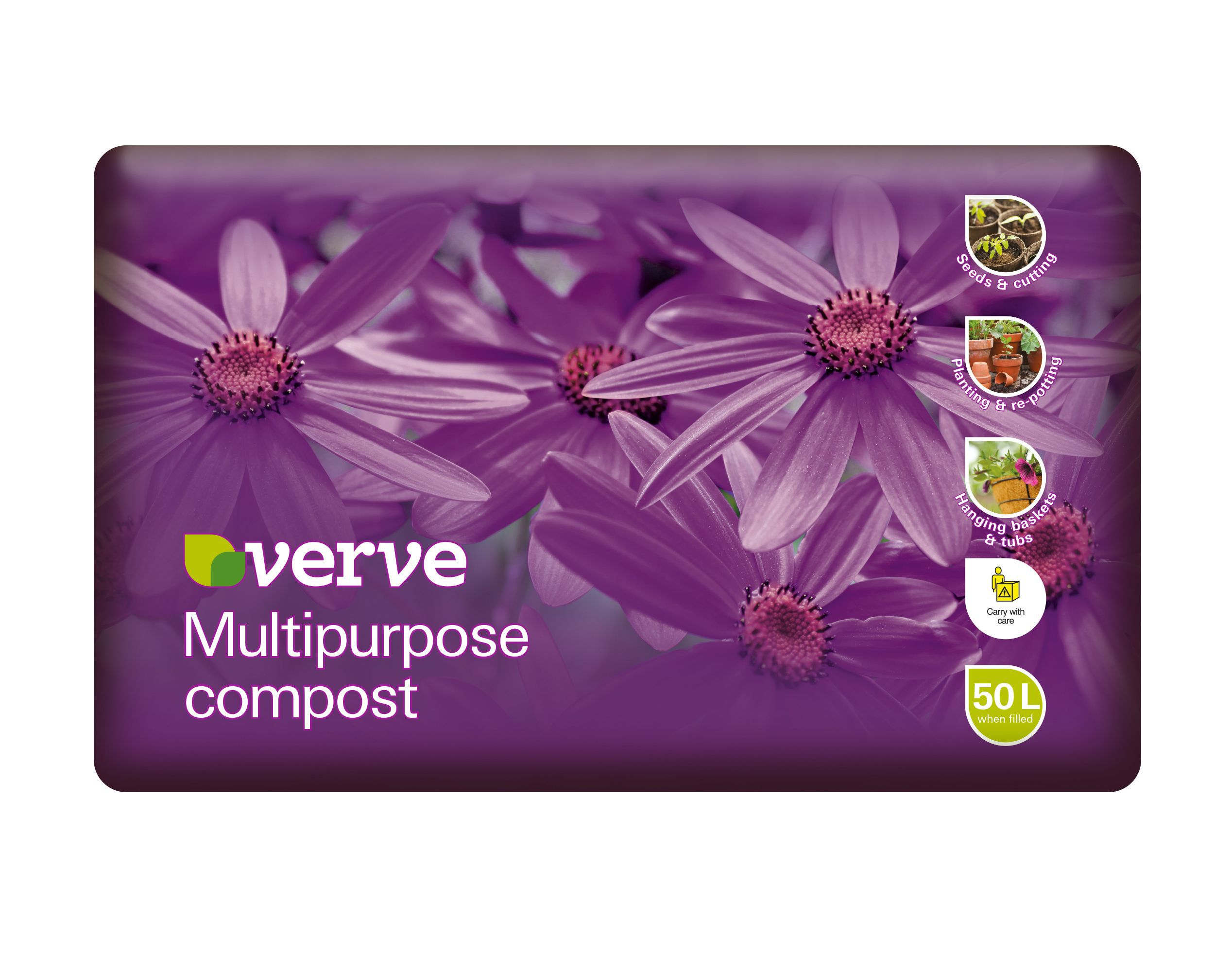 5 for £15. Discount applied at checkout
Product details
Product information
This multipurpose compost is suitable use all around the garden. ideal for use in pots, containers, hanging baskets, window boxes, beds and borders.
A great all-rounder, this compost is a blend of quality ingredients, and balanced fertiliser to encourage healthy growth.
100% peat, coir & green compost
To re-pot a plant, water well 1-2 hours before re-potting. Add a layer of compost to a slightly larger pot. Gently remove plant from pot. Pop plant into the larger pot and top up with compost. Lightly firm the compost with your fingertips and water.
Features and benefits
This hearty mix won't suit acid-loving plants such as Rhododendrons, Heathers, Azaleas, Japanese Acers, and Camellias
Feeds plants for up to 6 weeks
Designed to give plants & seeds a great start when first sowed
Verve's award winning multi purpose compost has all the ingredients to let your flowers, seeds and cuttings feast, flourish and grow - for up to 6 weeks
Always wear gloves when gardening and wash hands after use. Keep packaging away from babies or children to avoid danger of suffocation. Use in a well ventilated place and avoid breathing in dust. Ensure you can handle this product without difficulty if you are prone to allergies
Specifications
| | |
| --- | --- |
| Brand | Verve |
| Litre capacity (L) | 50L |
| Peat content | 58% |
| Product code | 3663602950660 |
Compost
Bought in bulk. Just got an allotment and saw the compost was on offer. Used this before for planters.
Looks good at first but a lot of rubbish/plastic
Tom the Garden Cat - 12 day ago
I bought this to help top dress my newly seeded lawn. I have used screened topsoil before, but as I needed a big bag and did not have much time, I headed to the local B&Q.

I noted my father had used this in the past for planting and thought I'd give it a go.

Unfortunately despite its good appearance initially, once I had spread it finely on the lawn I noted it had shredded coloured plastic within this. I'm pretty sure there was some small pieces of brick mixed in for good measure. Whilst it was not in most of the bag, seeing this rubbish on my new lawn was such a disappointment.

You get what you pay for I guess.

Once it rained the compost was poor at covering the grass seed, it had too many uncomposted twigs/bits of wood. The ground did not hold moisture compared to decent top soil.

I'm the end I have learnt my lesson, I now agree with most of the comments suggesting this is not good quality, spending a little more on better compost or soil depending on your needs/application is a much better option.

I ended up buying topsoil which was screened and weed free a week later and the lawn benefited from that more than this poor quality compost.

Personally I will avoid buying this again.
good honest compost
bonus was the multi buy offer. Seems fit for purpose -- bulbs already shooting!
Disappointing compost
I see I am not alone in being disappointed with the Verve Compost that was very compacted. Found difficult removing from bag but when sliced it open found compacted with white roots so could only use as a mulch. I wrote to Kingfisher Int Products on 1st October but to date no reply.
Qualiuty gone downhill recently
vindaloomonster - 1 month ago
This used to be really good quality compost and I would buy it as my compost of choice. Bought several bags of this recently whilst it has been on offer and found several large pieces of wood, numerous smallish twigs but more concernedly, a piece of wire and a piece of broken glass