Bedroom storage buying guide
Introduction
Your bedroom should be your sanctuary, but more often than not it becomes a hiding place for all the little (or big!) things you don't want visitors to find. This can make it feel at best a little cluttered, and at worst stuffy, stifling and oppressive.
To retain a sense of calm (or at least, controlled chaos) invest in clever furniture and some smart bedroom storage. There are a lot more options than you'd think!

Fitted furniture & sliding wardrobe doors

Fitted furniture
Fitted furniture offers a lot of storage space. Even if the fitted furniture is restricted to one wall, it will still provide generous hanging and shelf space.
At B&Q, our in-house experts will give you all the help you need in planning your new bedroom. That includes understanding your space and creating the right storage solution for you.
Almost all bedrooms will benefit from good quality, well fitted furniture - a good designer will be able to solve dodgy angles, awkward alcoves and uneven walls to create a sleek, chic appearance.
In small or particularly awkwardly shaped bedrooms, it makes sense to have fitted furniture installed because it utilises every inch of space and leaves you with a streamlined finish that helps make the room feel much bigger.
The interior fittings of the wardrobes need to be well thought out by you. You need a system that fits your needs.
Our bespoke modular furniture systems offer endless possibilities for any room in the home; perfect for walk-in wardrobe interiors, shelving display systems or just simple storage shelving.
Sliding wardrobe doors
Sliding doors are the epitome of chic and sophisticated bedrooms. At B&Q, we have all you need to fit them wall-to-wall for that fully fitted, minimalist look or we have complete sliding door wardrobes for a freestanding solution.
Choose from a great collection of contemporary, traditional and mirrored door styles and even select co-ordinating chests from any of our modular furniture ranges to create your ideal bedroom storage solution.

If you're looking for something bespoke, we also offer a made to measure service for a designer style bedroom with an affordable price tag.
All of our made to measure sliding doors are manufactured to your own individual specification, so you can create a truly bespoke floor to ceiling & wall to wall feature for any room in the home.
Installing a bespoke floor to ceiling, wall to wall wardrobe really pays off. Your storage space instantly changes from eye-catching for the wrong reasons, into an amazing focal point & design feature. Particularly if you choose to go bold, and choose a design in a vibrant colour or mirrored doors.
Mirrored wardrobes do three jobs at once - hide clutter, reflect light and enlarge a small room. They help stretch space visually, which you can exaggerate further by picking a gloss finish.
Under bed storage & beds with built-in storage

Under bed storage
Never underestimate the value of the space under your bed. Even if your room has ample storage, a lot of clutter and long forgotten items will still end up in that deep, dark area underneath your bed!
So it makes sense to embrace the space and invest in something to properly utilise such a large, empty area of floorspace. The solution is under bed drawers.
Standard bedsteads can be teamed with sturdy under-bed baskets, or large drawers on castors in various materials. Easy access, open basket drawers would be best used to store bedspreads, a collection of shoes and other such items that get regular use. Hard-wearing, lidded plastic drawers can be filled with out of season items that won't be touched for months.
Beds with built-in storage
The most popular storage beds are the Ottoman and Divan. Ottoman beds normally have space beneath the mattress which can be accessed by lifting the mattress up. Ottoman beds are more disruptive than drawers, but are an excellent place to store out-of-season clothes, shoes, blankets and quilts.
Divan beds come with drawers built into the base of the bed. These drawers come in numerous combinations so you can ensure that you get the right storage system for your needs.
Divan beds with drawers are extremely useful, but choose one with an attractive cover, or a plain fabric cover so you don't need to use a valance sheet and can reach the drawers easily.
Use the walls

Don't just look under the bed for extra space - in a small room, use wall space effectively, building upwards rather than outwards.
Top tip... Before you buy your bedroom storage, it's a good idea to list what you'll need to store in your bedroom and work out how much hanging and drawer space is required.
No space for bedside tables? Use the space above your bed.
Fitted above a bed or in an alcove, floating shelves have no visible supports and really do appear to float. Working best on masonry walls, floating shelves come in a variety of colours and finishes. For a modern and individual look, choose several of different lengths of various finishes, or stagger the shelves to create a stepped appearance.
If there are things you want to tidy away, but still want visible, shelving is the best way to go. Bookcases can work particularly well as a focal point in bedrooms.
Combined with beautiful storage baskets, in materials like wicker, sea grass or straw baskets, you can create something with real character.
A freestanding open bookcase can be used as a partition to split a room in half; a wall to break a bedroom into two areas. This cleverly divides an open-plan area without enclosing the space entirely.
Open shelves are ideal for pulling light into the room, and placing accessories between your books and ornaments creates a stylish display.
Freestanding furniture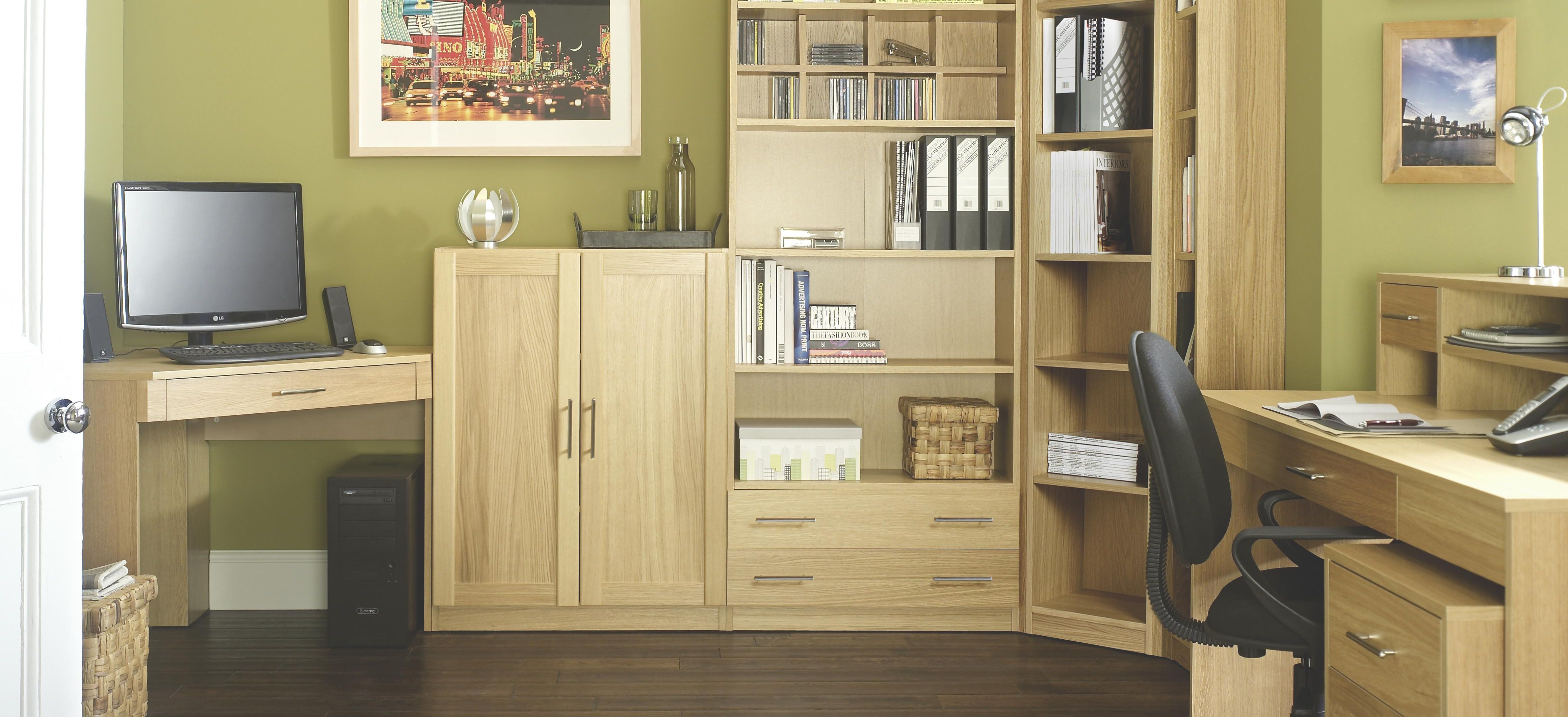 Freestanding wardrobes are less popular then they used to be, but they are still an excellent choice, particularly if your home is full of little gaps & alcoves. A wardrobe positioned in a alcove utilises a space that would otherwise be very difficult to fill.
The key to keeping your bedroom tidy and clutter free is all about choosing the right wardrobe for you. There are plenty of options to choose from, from the classic full length hanging two door style, to the modern four door mirrored wardrobe. Wardrobes are often maligned, but modern wardrobes contain not just hanging rails but shelves too, making them the ultimate storage unit. You can also invest in interior wardrobe storage – such a hanging fabric racks for shoes or decorative storage boxes for the bottom of your wardrobe.
And why not turn yours into a stylish focal point by choosing a striking design to make it really stand out?
A classic chest of drawers is a staple storage option for bedrooms. For a babies room they can easily be used as a changing table, for a teenager they perfectly double up as dressing table.
To get the perfect chest of drawers for your space you will need to asses your room and your storage needs. For example, an attic room needs the largest vertical space for a wardrobe so a midi-chest of drawers to sit under the slanted wall could be best. If floor space is limited, consider tall, narrow chests with lots of drawers - perfect for smaller items.
Additional items like a multi-drawer cabinet can also provide crucial extra storage. An ottoman style blanket box will fit snuggly at the end of any bed creating the perfect place to store away bed linen, sheets and towels. You could even opt to go multi-functional, buying one with a cushioned top, creating a comfortable sitting space whilst blending in effortlessly with your bed.
Articles