Garden heating buying guide
Fight off the chill with a stylish firepit or chimenea
Don't let cooler weather keep you indoors – enjoy your outdoor space into the evening with our garden heating range. Even after summer has ended, a firepit or chimenea will keep you warm and cosy outdoors.
Soaking up the atmosphere of a real fire is a pleasure to be enjoyed whether entertaining friends and family or relaxing and unwinding alone in the garden. Offering both warmth and light, you can just sit back and watch the fire or roast marshmallows in the flames. We even offer options that come with grills if you want to use your garden heater for more adventurous outdoor cooking.
Let's take a look at your options.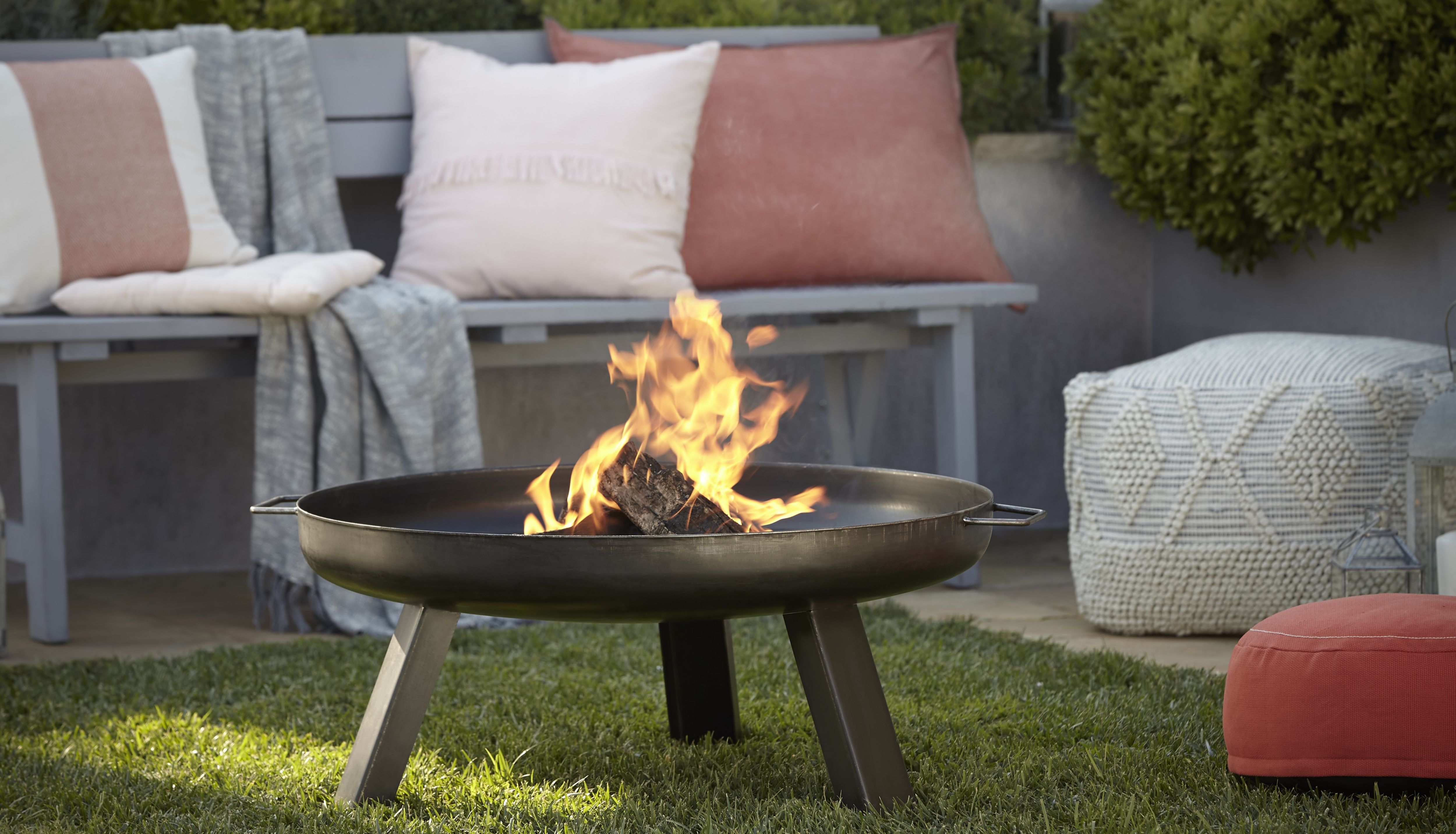 Before you buy
Before buying your outdoor heater, there are a few things to think about first.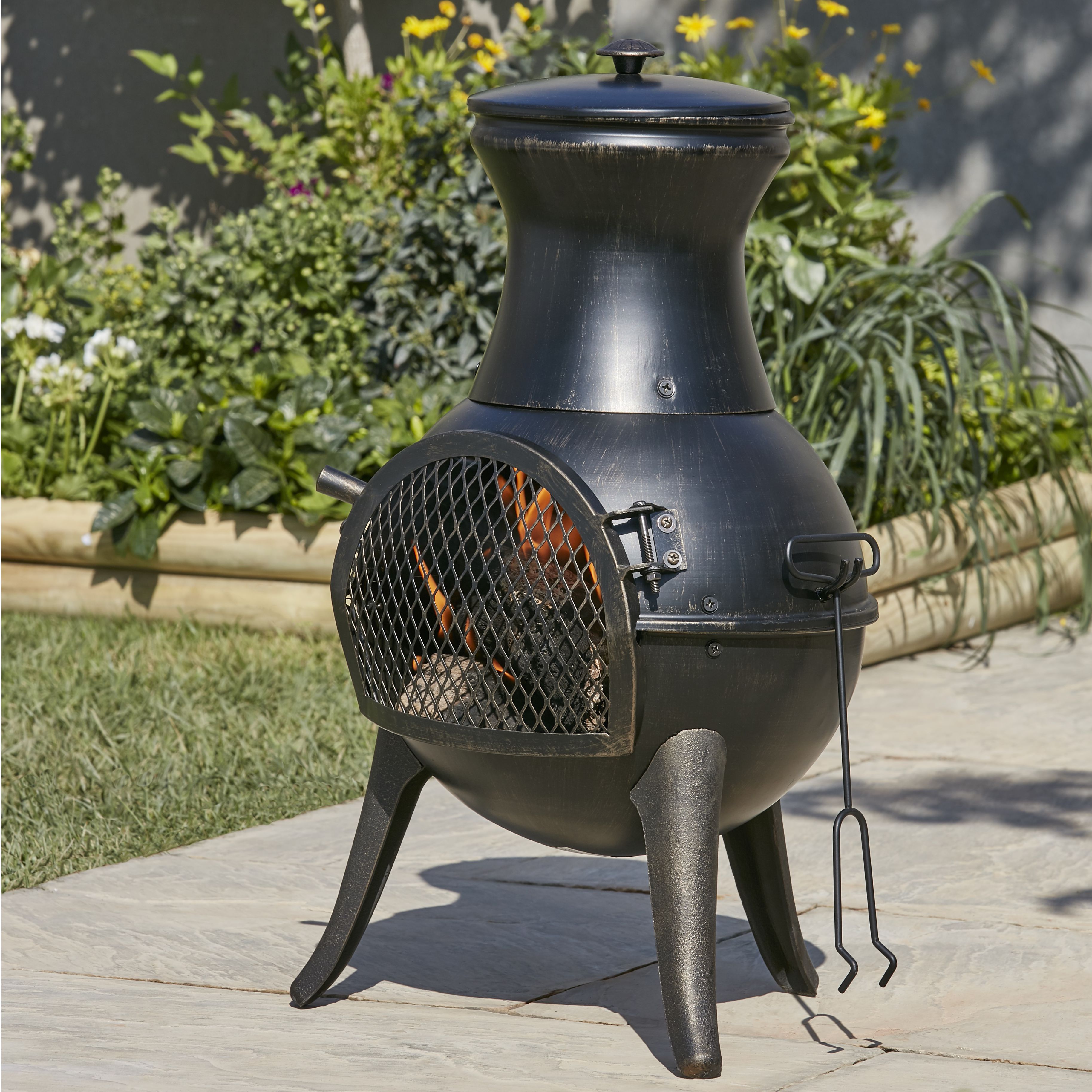 Where will the heater go?
Are you looking to create a cosy corner in your garden? Or do you have a large patio that you want a statement heater for? We offer options that are smaller and more enclosed for a small area, as well as larger, more open types that remind you of a campfire or fireplace. These bigger options are ideal for spacious paved areas, or the middle of a large lawn. If you're putting the heater on the lawn, just remember to place it on a paving slab to avoid scorched grass.

How many people is the heater for?
As well as knowing where the firepit or chimenea is going to go, consider how many people you'll likely have using it. For just a couple of people, a small heating option will do the job. But the heat from the smaller options won't reach more than two or three people, so for more you'll need a big heater to get a campfire feel.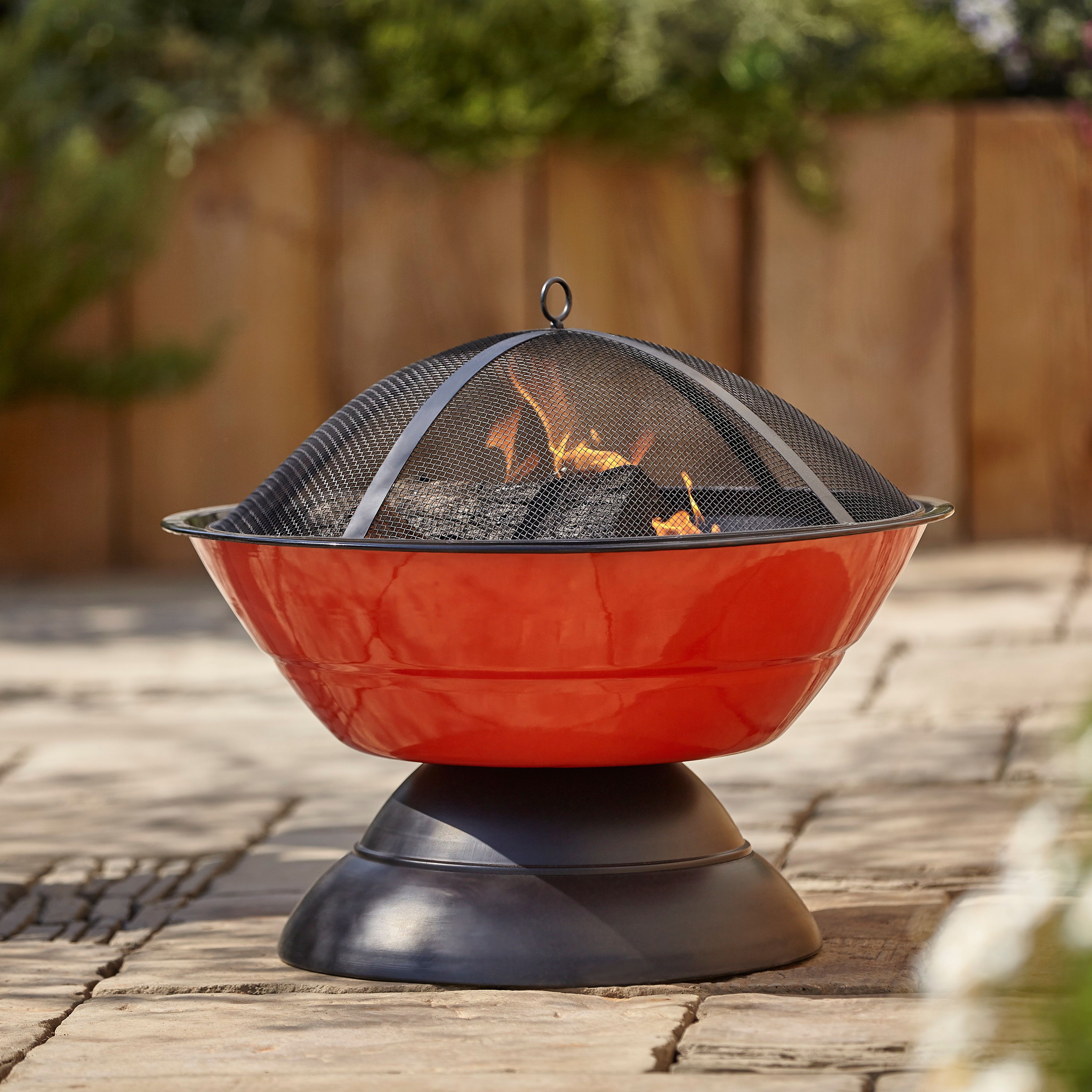 What look do you want?
Whether you're interested in a classic look, or if your style is more contemporary and edgy, we have something for you. From the traditional stove shape, to more open, brazier-style baskets, or modern designs.
Which material is right for you?
Metal options allow you to start using your outdoor heater almost immediately, require little maintenance and can be stored outside (although we recommend protecting with a cover). Clay gives a traditional look, but will require curing before use and cannot be kept outside during the harsh winter months.
Garden heating types
There are a number of different types of outdoor heating to consider. All options are fuelled with wood.
Metal chimeneas
A sturdier alternative to the decorative clay option and with less maintenance required.
You might need
Now that you've chosen the right outdoor heating for you, it's time to make sure that you've got everything you need to get it going, as well as maintain it.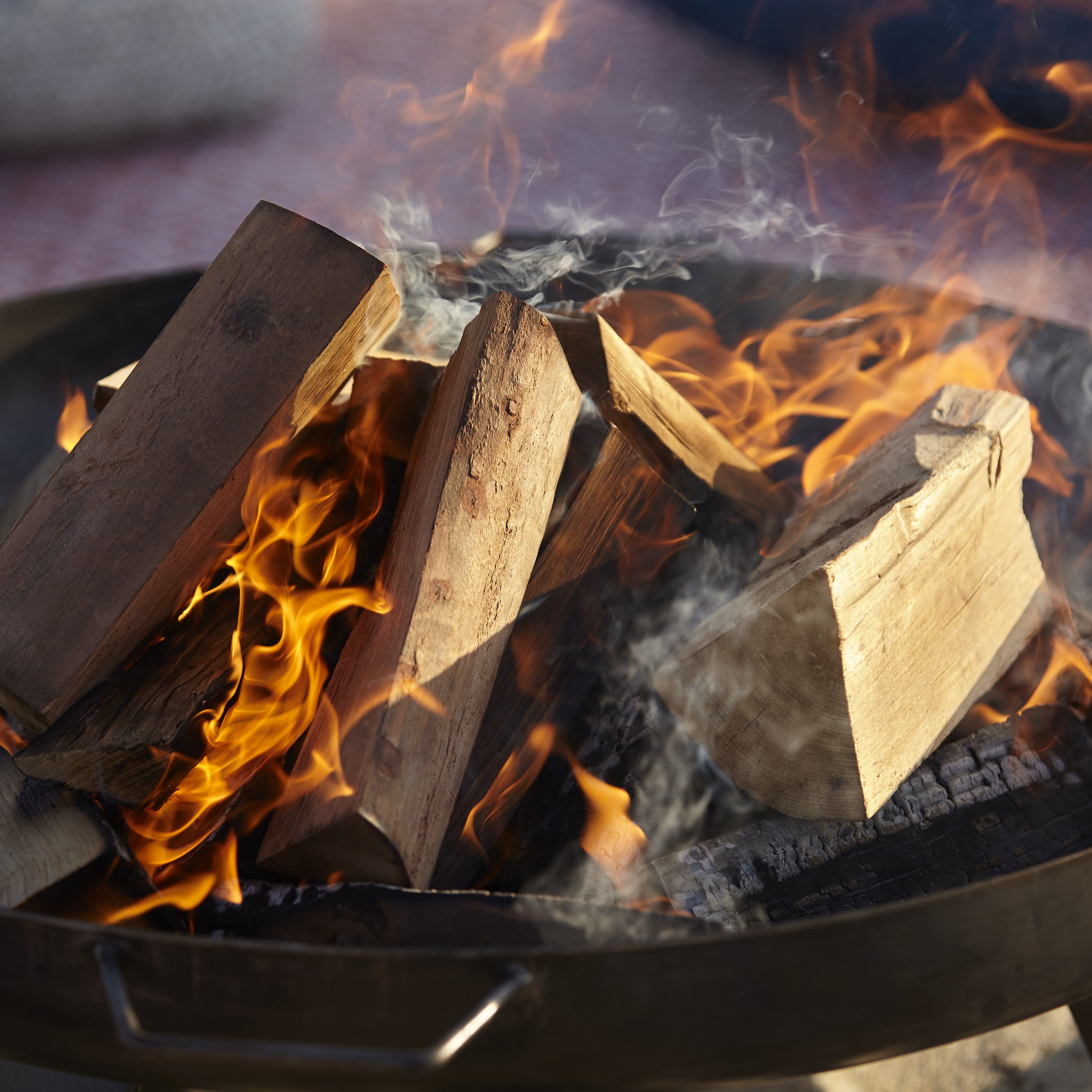 Logs and kindling
We've got the firewood needed to fuel your fire. From packs of kindling to hardwood logs, we've got you covered.
Firelighters & flame lights
Guarantee a roaring fire by stocking up on firelighter cubes. Pop one or two in with your kindling and you can be sure to get the flames going. And to start it up, use a long flame lighter to keep your fingers free from the fire.
Garden heating covers
Protect your outdoor heater from the elements with one of our protective covers. Made from water-resistant black polyester, they're a great way to keep your chimenea or fire pit in good condition.
Shop garden heating protective covers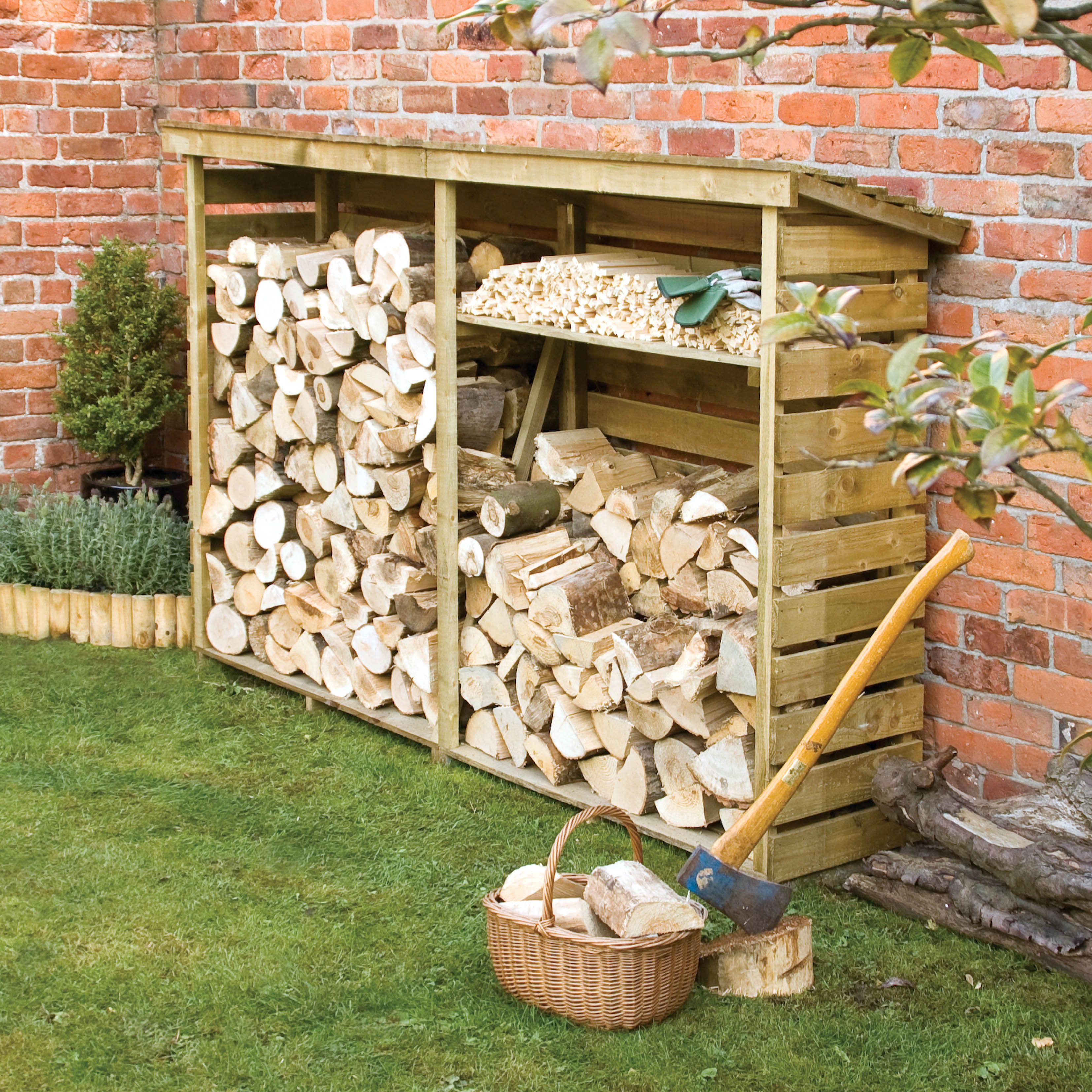 Log store
Ensure you've always got plenty of firewood to hand by stocking up a log store. We offer a range of log stores, from traditional slatted wooden stores, to contemporary metal stores with water-resistant covers. Choose a store to match your garden look, and in a size to fit in where you want it.
Citronella candles
Sitting outside in the evening can often mean an onslaught of irritating insects. Keep them away with our citronella candles. Not only will they repel the bugs, they'll also add some atmospheric light to the garden. Choose from our colourful range of tealights, stake lights, bamboo torches and candles in jars.
Articles