Hedge trimmer buying guide
Get your garden in shape with perfectly trimmed hedges
Reduce the time and effort needed to keep your hedges in great shape with a hedge trimmer. The latest models are lighter in weight, easier to manoeuvre and more convenient than their predecessors and there are different models to suit different sized gardens and hedges.
Well-trimmed hedges encourage healthy growth, provide a tidy border for your garden and can add structure or even a little fun to a garden design. Choosing the right tool to achieve this is about finding a compromise between the size of your garden, the type of hedge and your comfort.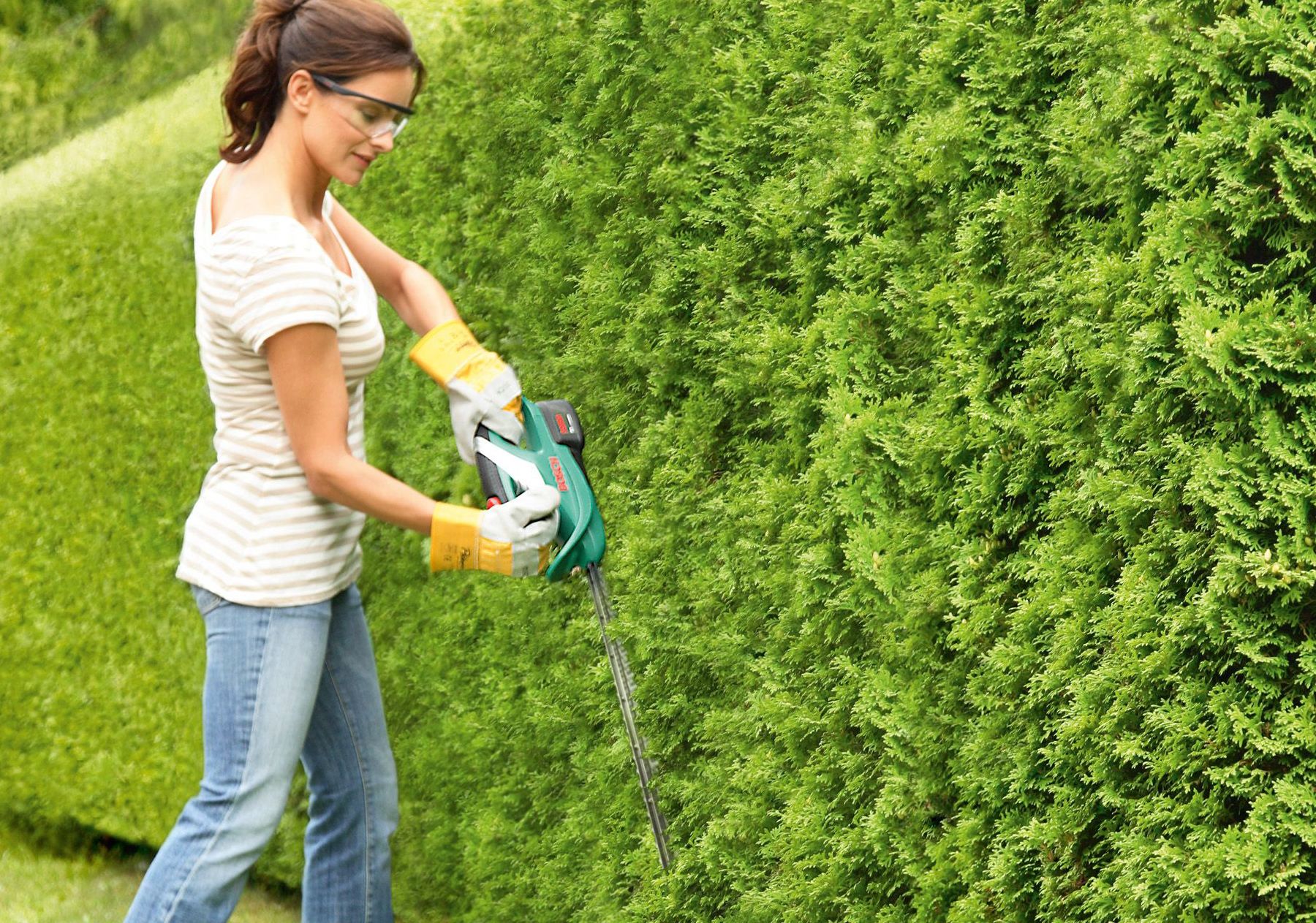 Before you begin
Identify your hedge type to find the right tool
Begin by taking a few minutes to think about the hedges you'll be cutting most often.
How do you access your hedge?
Consider where your hedges are located. Do you have a small or large garden? Do you have access to an outdoor power supply – and where is this? The answer to these questions will help you choose the right power supply for your hedge trimmer. If you have a small garden or good access to a power supply, you have more options available than if you're working in a larger space, have longer hedges or don't have easy access.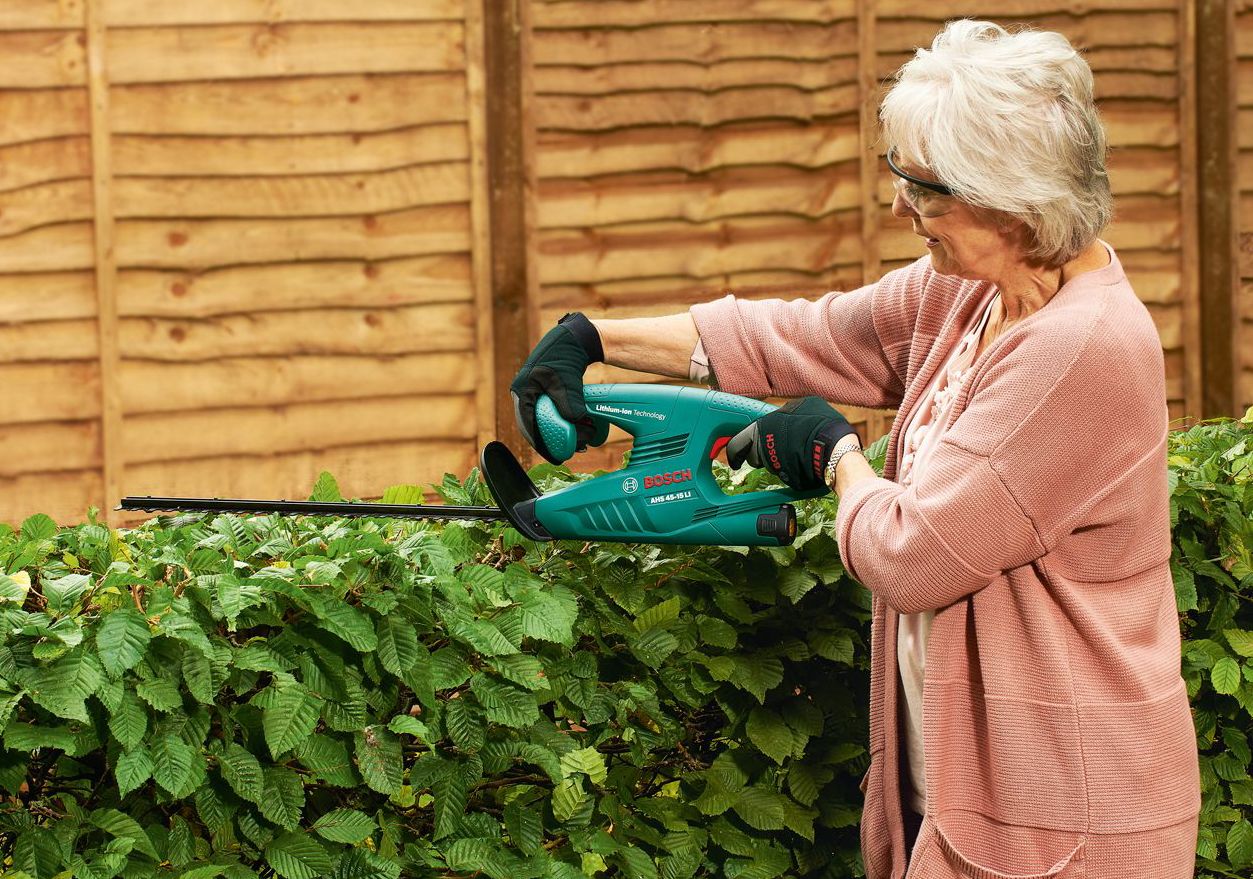 Think about how accessible your hedges are. Can you approach them from both sides, or are there walls or fences next to your hedge? If there is easy access on both sides, you'll be able to manage with a shorter blade – but opt for a longer blade if your hedge is wider or you can only cut from one side. If you've got walls or fences on the far side of your hedge, look for blade tip protection features to minimise damage from accidental knocks and scrapes.
If you have very high hedges, you might want to think about a long reach trimmer that is designed to safely cut tall vegetation.
What kind of vegetation will you be cutting?
Understanding how thick your hedge is, and the type and maturity of plants and shrubs growing in it, can be very helpful. Hedge trimmer blades are made up of a series of evenly spaced teeth, and the space between these indicates the size of branch and stem the trimmer can comfortably cut. If the hedge is mature and comprised of woody plants such as privet, holly or some conifers, it might have thicker stems, so you'll need a tool that can handle these with ease. If you're regularly cutting through thicker material, consider more powerful options – or look for special features like anti-blocking systems for uninterrupted trimming, or sawing functions that help to tackle the odd thick branch.
Which hedge trimmer?
Find the right power supply to suit your gardening needs
Choosing between a petrol-powered, corded or cordless electric hedge trimmer is an important step in finding a tool that you're comfortable with, and can tackle your hedge.
Corded electric hedge trimmers
Corded electric trimmers are ready for use at a moment's notice, great news if you regularly maintain your hedges as you won't need to worry about battery charging or buying fuel.
Consider the length of the cable – will it be long enough to reach all corners of your garden? If not, consider a cordless model, or simply add an outdoor extension lead. You'll also need to ensure that you've got a safe outdoor power supply, and use in conjunction with an RCD to reduce risks from electric shock.
A corded hedge trimmer's power is measured in Watts (W).
Shop extension leadsShop RCD protectors
Cordless electric hedge trimmers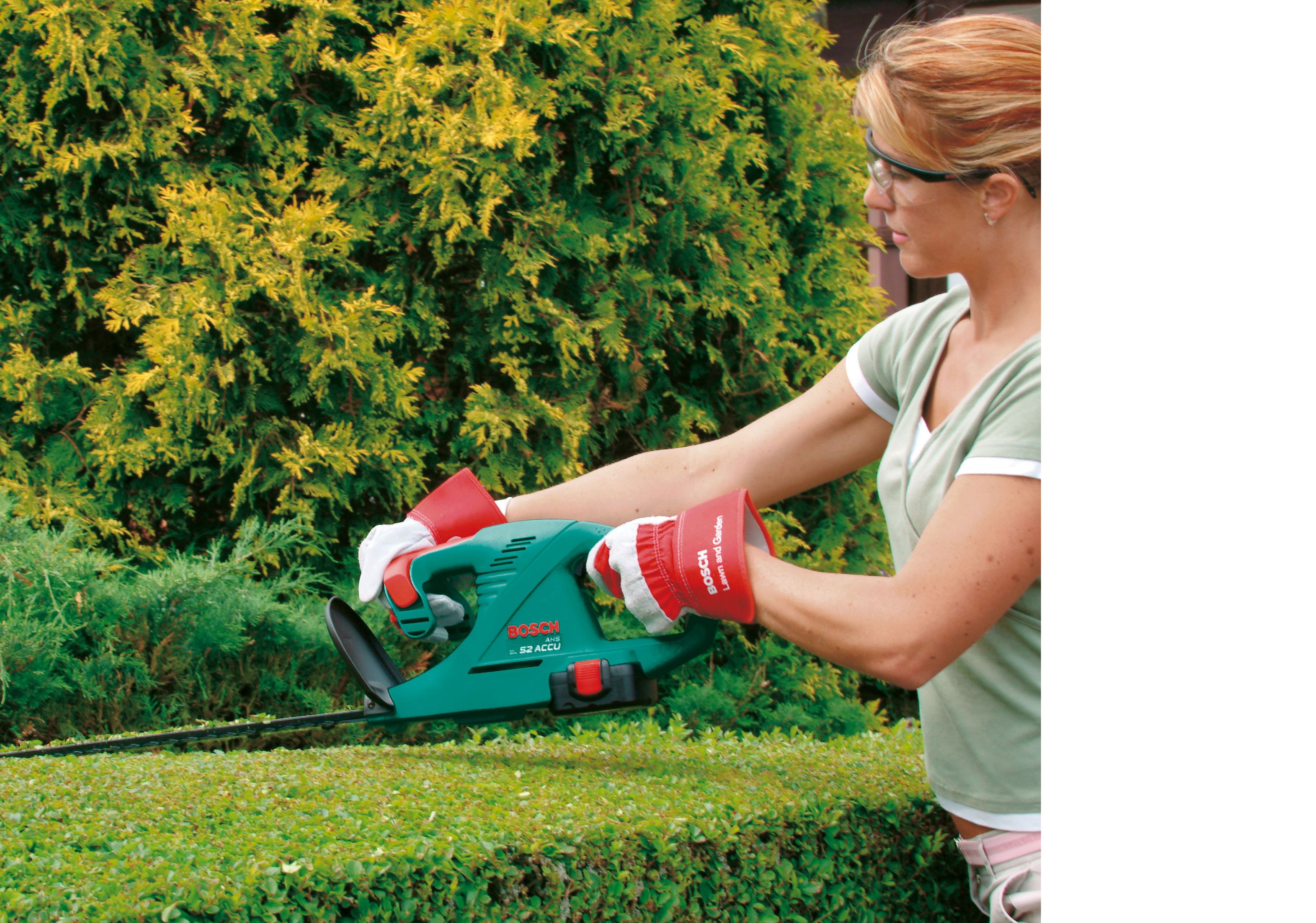 If you'd rather not worry about cables or would prefer the freedom to move around more easily, cordless trimmers are ideal. They are lightweight, usually between 2-3kg, but be aware that the running time of the machine will be limited by the type of batteries it uses.
A cordless hedge trimmer's power is measured by Volts (V). The more power the battery can deliver, the better the tool's performance. Most cordless hedge trimmer use Ni-Cd or Li-Ion batteries. If you're going to use your trimmer regularly, Li-Ion batteries can be a good choice as the amount of power produced won't deteriorate as the battery runs down and they won't lose charge when they're not in use.
The battery's ampere hour (Ah) or amp rating goes hand-in-hand with its voltage. This measures the electric charge and dictates the capacity of the battery supplied. The higher the capacity, the longer the battery will run for.
Petrol hedge trimmers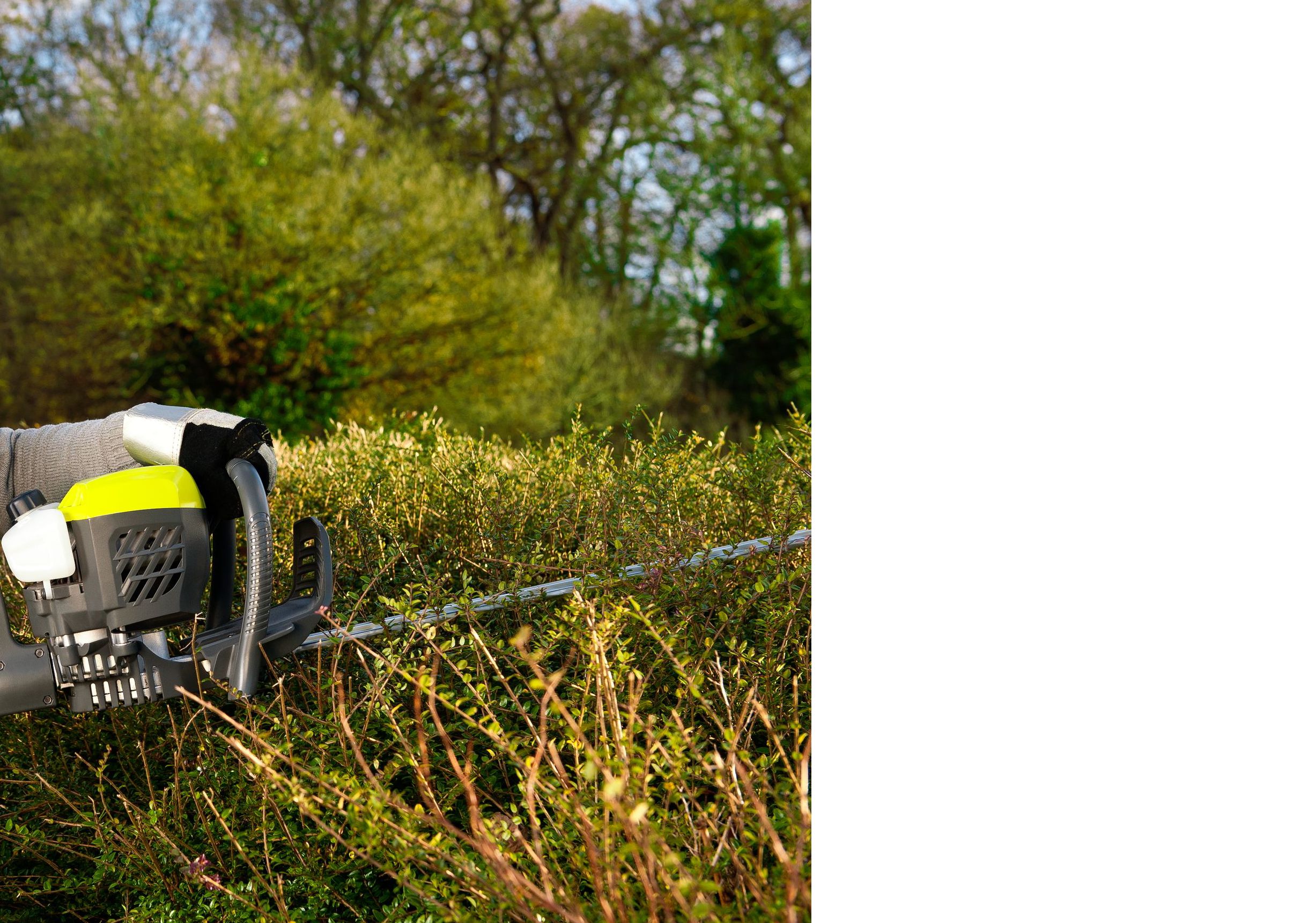 Petrol-powered hedge trimmers are fuelled by two-stroke, a mixture of petrol and oil that is mixed together before pouring into the fuel tank. This fuels a powerful engine, making these trimmers ideal for more demanding tasks, such as cutting overgrown or mature hedges. The greater the cubic capacity (cc) of the engine, the more powerful the tool.
Whilst they tend to be heavier in weight, usually 5-7kg before fuel is added, and noisier than their electric counterparts they offer a longer run-time than battery powered models, so are well suited to larger gardens and hedges. They'll also help to get the job done quicker.
A petrol hedge trimmer's power is measured by engine size, often referred to as cubic capacity, in cubic centimetres (cc). The larger the engine, the more powerful the tool.
Features
What to look for in your new hedge trimmer
The right features will help you to achieve the best cut with your hedge trimmer – look for those which suit the size and type of hedge you have, as well as features that contribute to your comfort when using.
Blade length
Measured in millimetres (mm).
The blade length of a trimmer will determine the width of hedge you can cut with it. For a smaller hedge, blades between 300-400mm should be sufficient, but if you're regularly cutting more mature hedges look for models with blades 500mmm or longer. You might also opt for a longer blade for smaller hedges that you can't access from both sides.
Tooth opening
Measured in millimetres (mm).
The wider the tooth opening, the larger the material your hedge trimmer blade can cut. For more mature hedges, a wider tooth gap will make it easier to cut through thicker branches and stems. For a smaller hedge, blades with a 15-20mm gap should be sufficient, but if you're regularly cutting more mature hedges look for models with a gap of 30mm or wider.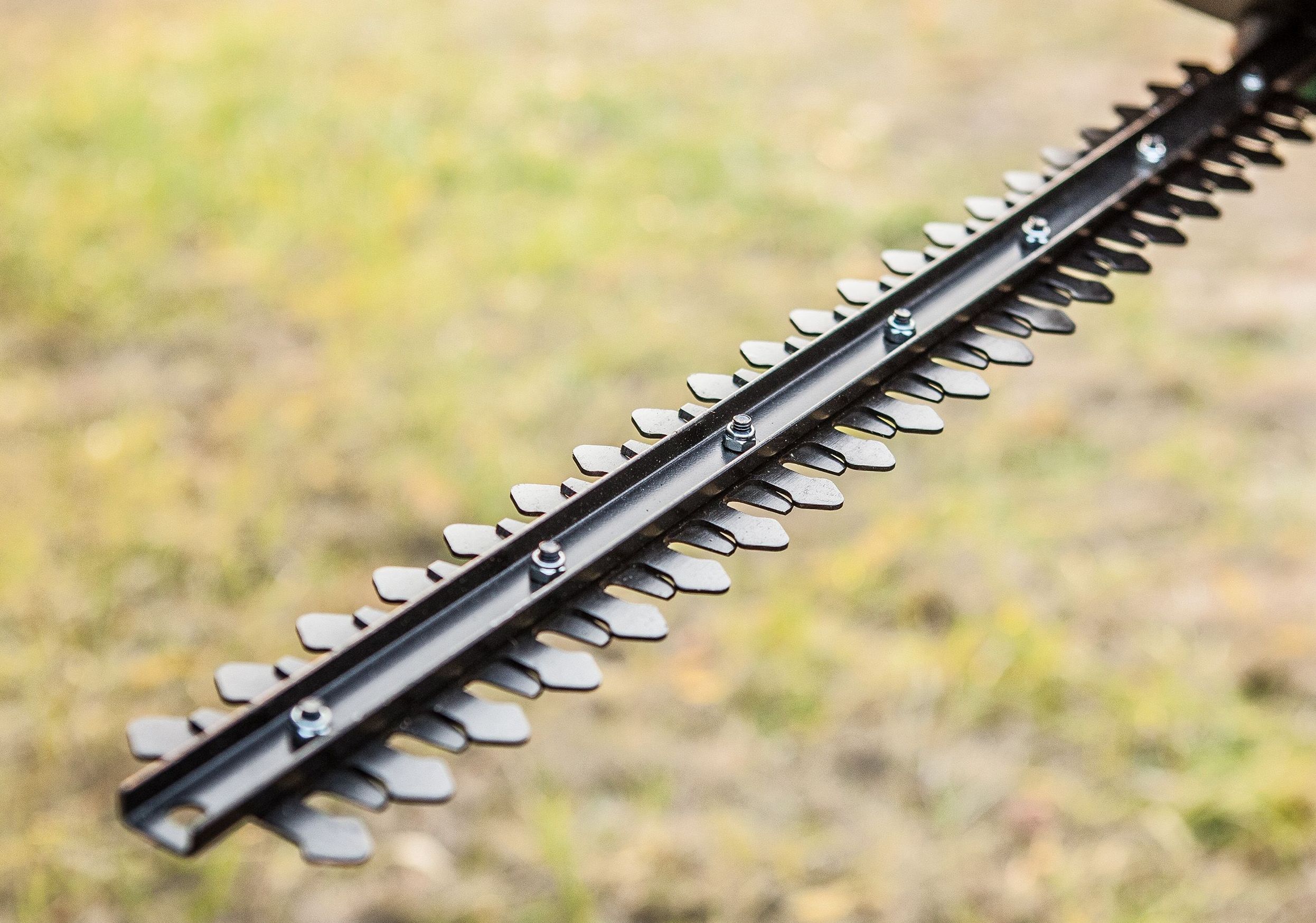 Sawing function
If you're regularly cutting larger or more mature hedges, a sawing function can be helpful for cutting thicker, unruly branches. One area of the blade will be optimised for sawing - angle this towards the stems that need to be cut to take advantage of extra cutting power.
Blade tip protector
Whilst hedge trimmer blades are very durable and designed to cope with a wide range of vegetation and use over a number of years, hazards such as walls and fences can cause damage to the blade. Some blades are designed to include a blade tip protector which helps to protect against accidental knocks and scuffs to masonry and paving, helping to keep your trimmer in good condition.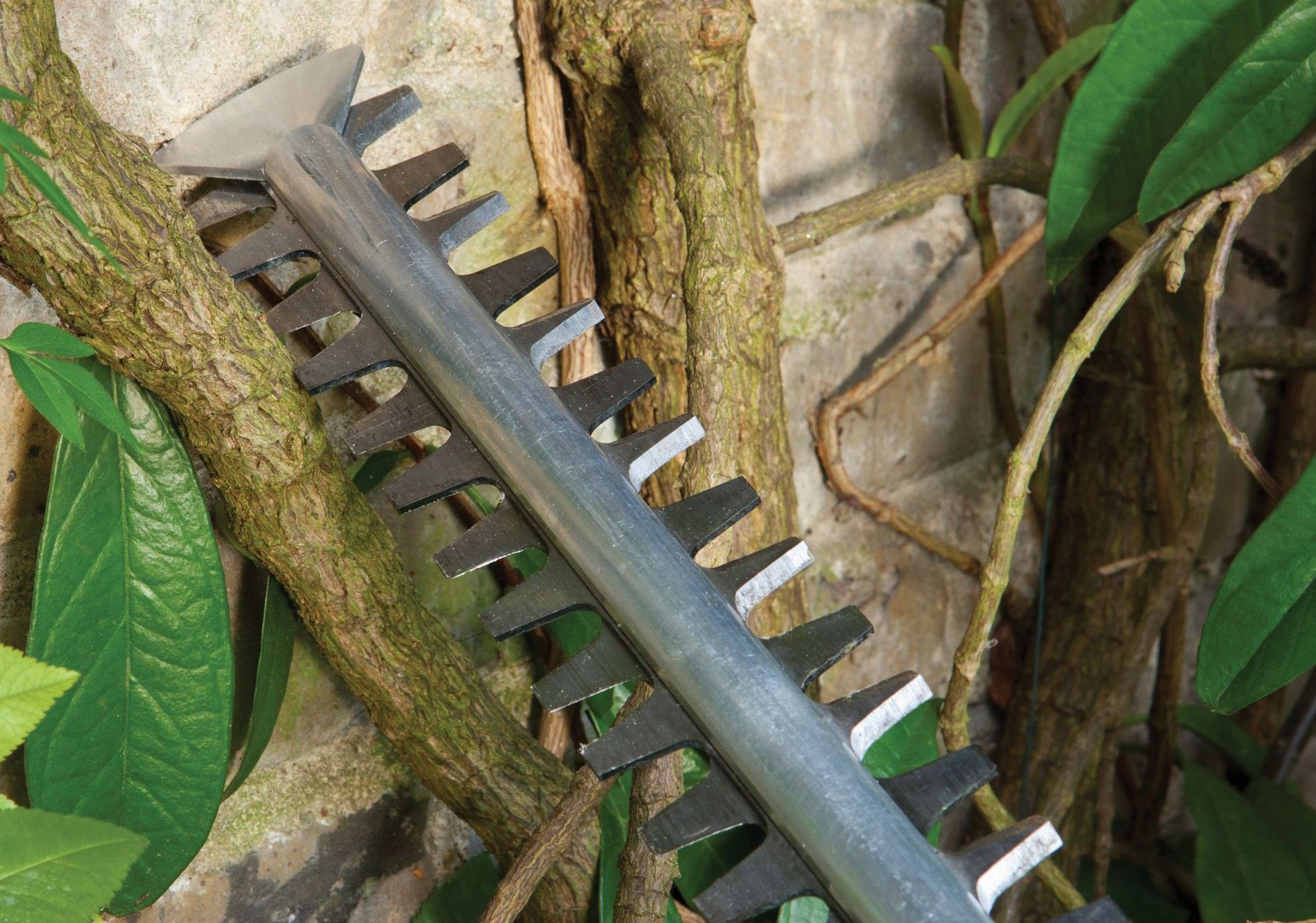 Blade sharpening
The sharper the blades of your hedge trimmer, the more precisely they will cut and the less vibration the tool with generate when cutting. Features such as diamond-ground or laser-cut indicate sharpness straight out of the box and should make it easier to achieve a high-quality finish.
Handle type
The type of handle on your hedge trimmer will determine how comfortable it is to use. Look for wraparound handles and/or those which rotate to help you to hold the trimmer at an angle that is both comfortable for you and offers efficient cutting. The more options your handle offers, the easier it will be to use.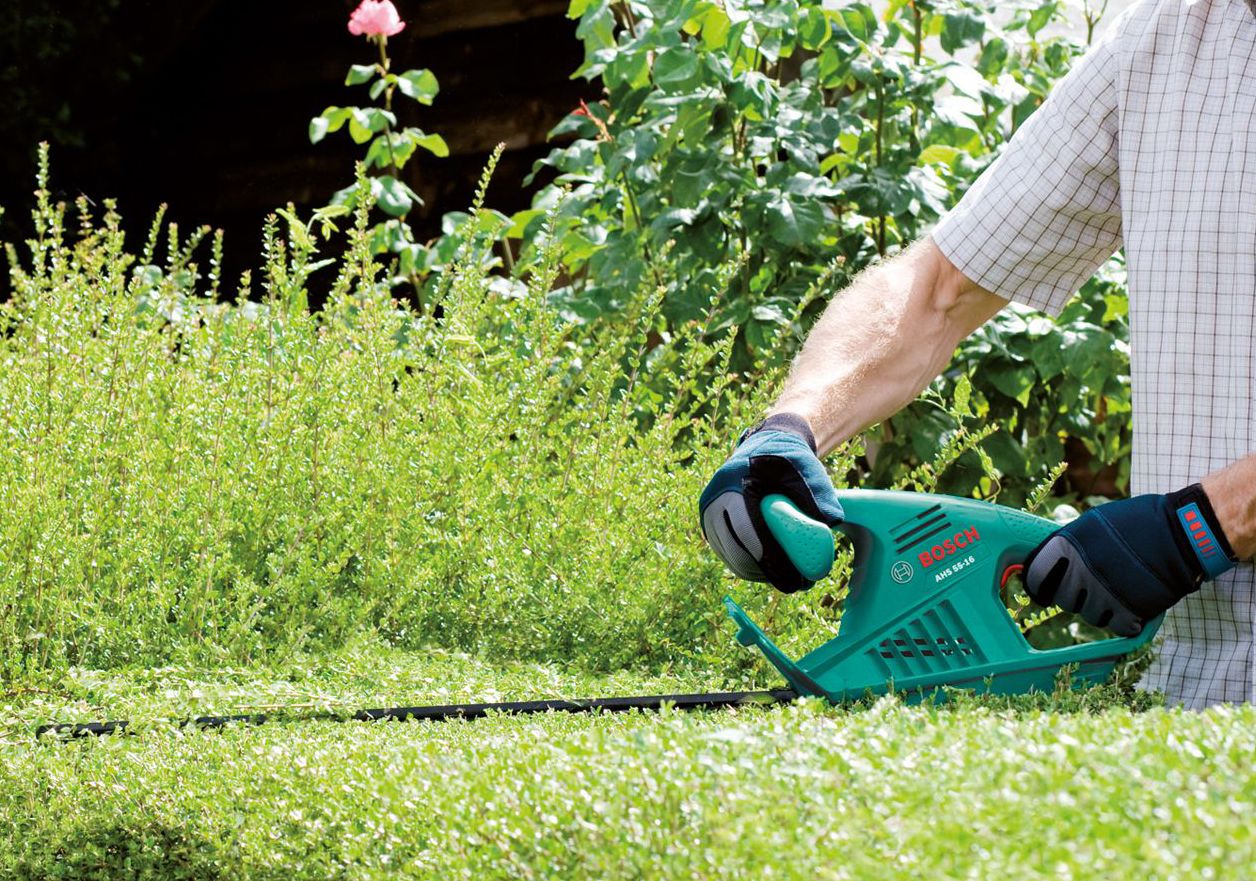 Safety switches
Dual and triple safety switches are the safest way to prevent accidental start-ups of hedge trimmers – and a vital precaution with electric models. It's important to remember that your tool will need to be stored somewhere safe both during breaks whilst working and between uses. Choose a spot where the blades pose no danger and accidental start up is not possible.
You might need
Everything you'll need to help finish the job
Safety first
Make sure that you protect yourself when working with a hedge trimmer. Eye protection is a must, as is a sturdy pair of boots. Consider a comfortable pair of garden gloves, thick enough to protect your hands from any thorns, brambles or pointed vegetation.
Shop eye protectionShop footwearShop gardening gloves
Corded electric trimmers
If you opt for an corded electric model, RCD protection is a must and an extension lead can be useful so that you can reach all corners of your garden.
Shop extension leadsShop RCD protectors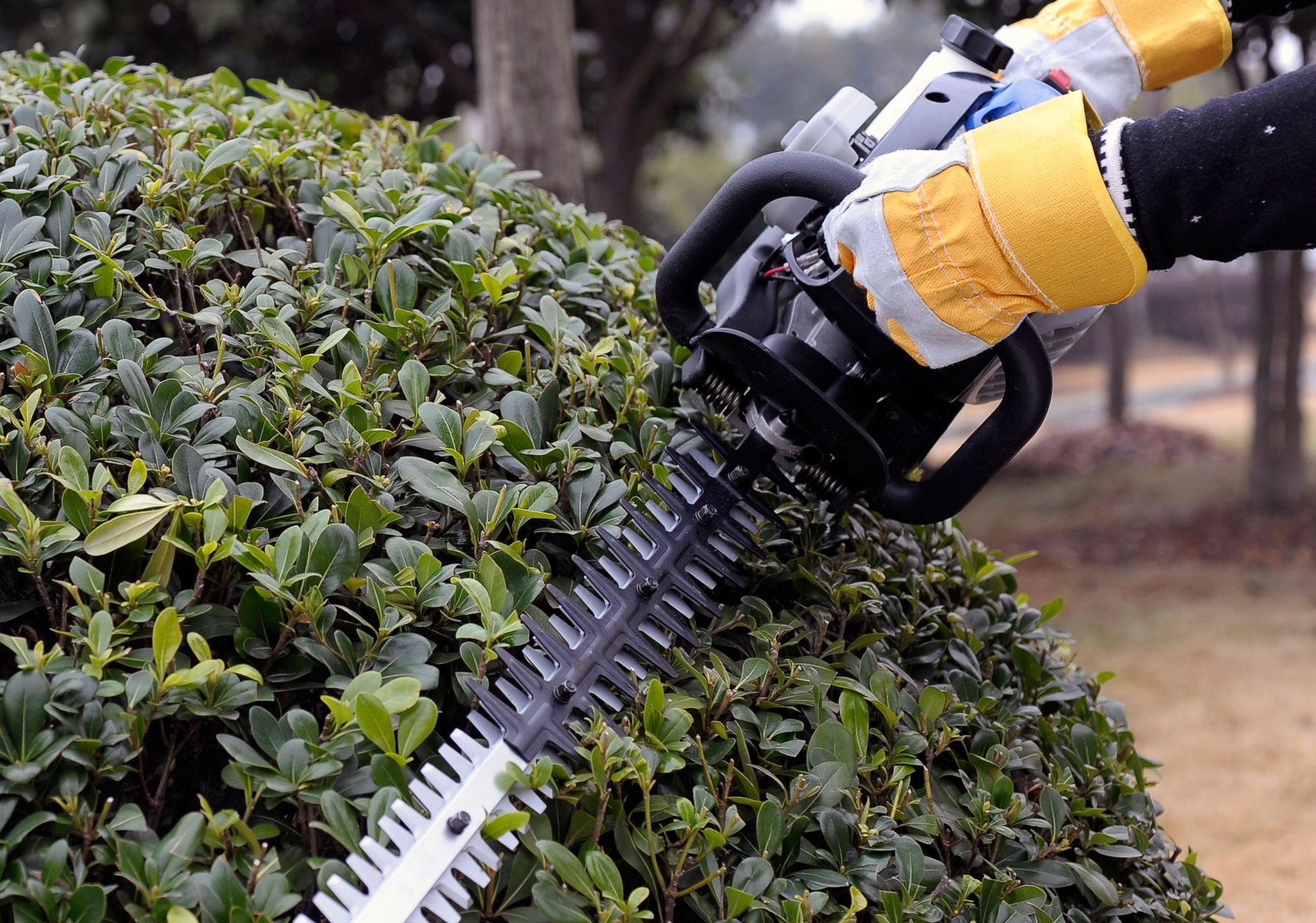 Petrol-powered trimmers
For petrol-powered models, invest in safe and suitable containers for fuel and a funnel for easy filling of the fuel tank.
Shop engine oilShop petrol cansShop funnels
Keep mess to a minimum
Cutting hedges can be a messy task, as you'll create a lot of trimmings. Place a tarpaulin along the base of the hedge and move this around the garden as you work to collect the trimmings – and use a leaf rake to catch any strays. Plan ahead so that you know what you're going to do with your clippings when finished. A garden shredder can help break these down so they can be used as mulch or composted, or you might want to take advantage of a green waste collection scheme if your local authority offers one. Larger branches can be broken down in to kindling and used as firewood, or can be stacked at the bottom of the garden to provide a habitat for a diverse range of insect species.
Articles