Introduction
Plants are the perfect accessory for any home. Whether you have a smaller flat or a spacious family home, house plants are an ideal addition. Watching your carefully tended seedlings burst into full bloom brings great satisfaction and once fully formed they bring a calming aspect to each room.
This guide is full of helpful hints about house plant care and tips to keep your plants blooming, including a variety of different plants that are popular among families and couples throughout the UK and abroad.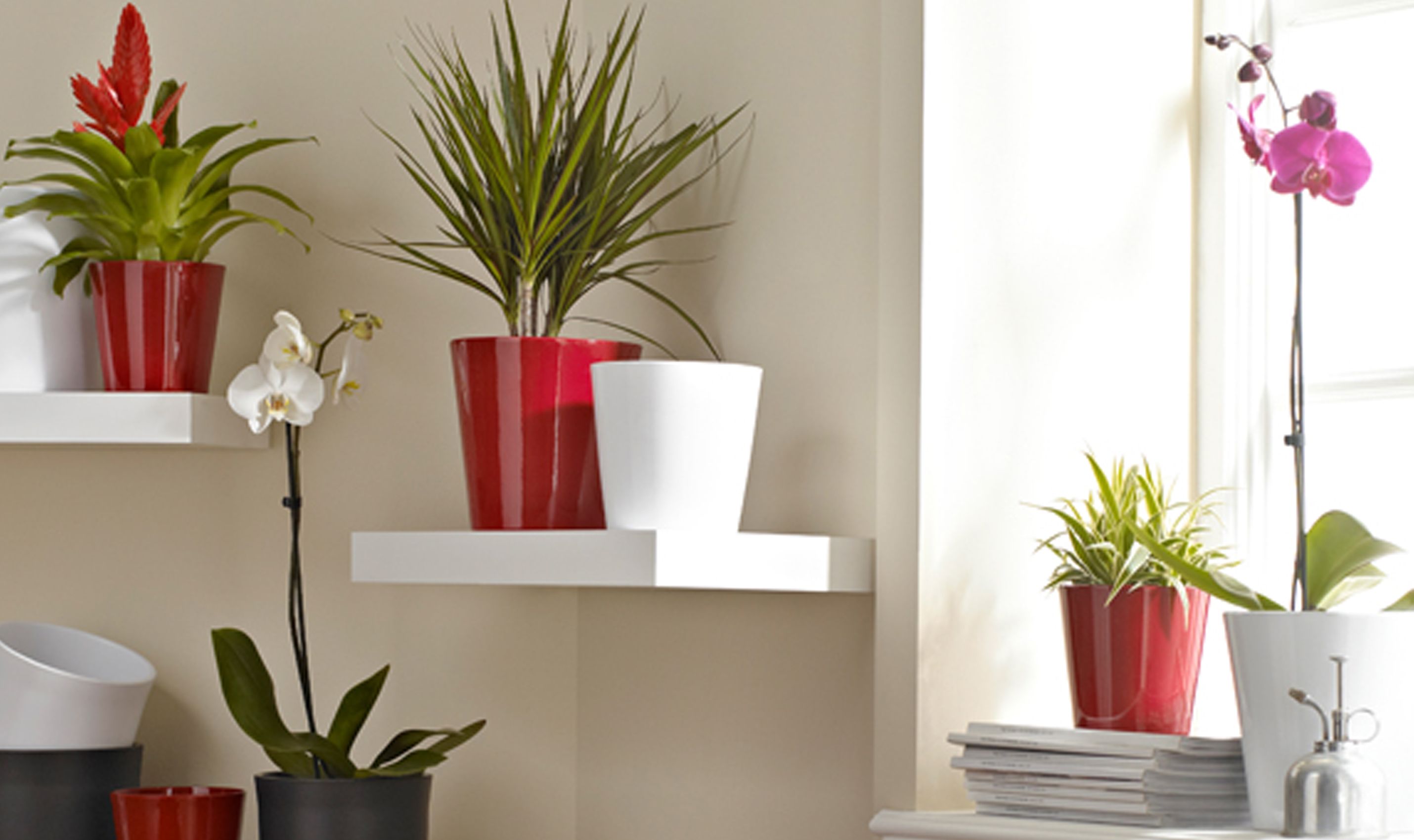 Low maintenance plants
Peace lilies

Also known as Closet Plants, Peace Lilies are one of the most popular house plants available. With beautifully crisp white blooms and dark green, waxy leaves, they are relatively easy to maintain and are considered to clean and neutralise the air.
Where to place
Peace Lilies thrive best in a location that has indirect sunlight. For example, a coffee table just out of the sun-light in a front room would be ideal. This is because the white blooms can sometimes become dry and brown if they are left in direct sunlight without regular watering.
Lily Care
It's important to heavily water these plants – this doesn't mean drowning them on a daily basis, but make sure it has a good supply of water every few days as they are very thirsty. A good tip to remember is when their leaves start drooping, it is time to water them. However, you shouldn't let them stand in water as this can rot the roots and kill the lily. Moderation is key.
The growing seasons for Peace Lilies are spring and summer and if well cared for, they will bloom twice a year, once in spring, once in summer.
They grow best with minimal interference, but if you see any brown leaves, then these should be removed with a pair of scissors. Brown leaves still take in water that could be better used for the living leaves. Peace lilies do need a slightly larger pot so that roots can spread, encouraging the plant to grow even bigger.
Succulents and Cacti

Cacti
Typically, cacti are smaller plants peppered with spines and prickles. Available in a variety of shapes and colours, they create stunning decorative displays when grouped together.
Where to place
As they can grow with minimal supervision, cacti can simply be left to grow on window sills or coffee tables. They should be placed in small pots on window sills and coffee tables.
Cacti Care
Despite their hardy appearance, cacti still require nourishment and nutrients, so it's important to remember to water your cacti, but don't overdo it. The soil around the base of the cacti should be damp when first watering, but leave to fully dry first. As cacti come from a hot, dry climate with minimal water during their lives, they have no natural way of stopping the intake of water. If you overwater the cacti, it will continuously drink until it can no longer take anymore and drown itself, or even worse – explode! For the novice gardener, you can spray the surface of the cacti, so it still gets moisture, but doesn't get overwatered.
It is important that cacti are able to get sunlight for a least part of the day, which is especially true for those cacti that sprout flowering plants.
Succulents
Originating from a warm, dry climate, a succulent plant has thick, fleshy leaves which retain the water they are supplied with. Available in a wide variety of shapes, colours and sizes, you will be able to find a plant to suit your individual style.
Remember, they do need a slightly larger pot, so the roots can spread and encourage the plant to grow even bigger.
Where to place
Due to the origins of these plants they thrive in warm, dry locations. A window sill would be a perfect location for a succulent plant, but make sure to top up their moisture levels if the soil gets too dry. This prevents them from becoming water-logged and gives them enough nourishment to thrive properly.
Succulent Care
Bear in mind however, succulents can grow fairly large, so if you've got more than one, it's worth spacing them a slight distance apart so the larger doesn't dwarf the smaller. Whilst greener varieties of the succulent plant family are suitable for indoor growth the purple species are more suited for outdoor life.
Both cacti and succulents are ideal plants for the novice grower. They both require minimal supervision and can survive with little interference from their owners. They both come in a variety of styles and colours, so you'll always be able to find a species that fits in well with your home.
Herbs
Shops and superstores all now stock fresh and dried herbs for the budding chef. However, nothing can compare to using the herbs you've grown fresh in your own home. The type of herb is your personal choice, but you need to think about how and where you're going to home them, as some herbs grow larger than others.
Where to place
The ideal location for the herb will entirely depend on the herb itself. Some may thrive in direct sunlight on a window sill, whereas others may grow best in a sheltered corner out of direct light.
Take for example perennial herbs such as mint and chives. They're a fragrant addition to your home and prefer a sunny window sill during the summer months. They do need regular watering though, especially if they begin looking dry and thirsty. Basil, coriander and oregano are annual herbs that can be easily grown throughout the year, making them perfect additions to your kitchen.
Herb Care
Good drainage is important for indoor herbs. Their delicate roots do not like being overwatered, so drowning them in the hope that they grow taller and larger is counterproductive.
You should water when the soil in the top of the container feels dry, but drain excess water away when it doesn't soak in after 30 seconds or so. If the herbs are still young then you could spray the herbs so they get a light coating of water without waterlogging their roots.
High impact plants

In contrast to the smaller house plants available, a more striking way to bring colour and vitality to your home is with a high impact plant.
Orchids
Grown for their elegance and style orchids are relatively easy to look after and when in full bloom create a striking focal point in your home. Their delicate nature and vibrant colours mean you can always find a species to suit your own personal style.
Where to Place
Orchids can be divided into three main temperature categories – cool, intermediate and warm – so you need to choose the species you buy carefully. Some need specific minimum night-time temperatures to thrive successfully.
Take for example the Paphiopedilum – or "Lady's Slipper" – species of orchid. Its delicate petals grow best in bright light, but not in direct sun. When growing at home an east, west or shaded south window is best, as they grow to their full potential at room temperature.
Orchid Care
Maintaining nutrient levels for orchids is crucial for keeping them in healthy condition. When you're trimming them you need to use sterile scissors as this will prevent the transfer of bacteria to the plant.
Orchids put a lot of energy into blooming, so it is good to give them a helping hand to keep the flowers vibrant and beautiful for longer. You can add small amount of Baby Bio Orchid Food to the water before pouring in to encourage growth and add more essential nutrients.
Orchids naturally live with their roots on the side of trees. So, if you want to fully incorporate an orchid's natural lifestyle into your home, you can re-pot it in Verve Orchid Compost, which includes natural woods and graded peat. This contains additional wetting agents, which helps when watering the orchids.
Orchids prefer a cool breeze, so will grow to maximum height in a well air conditioned room or office, where they can regularly benefit from fresh air. This will prevent fungal or pest infections by keeping the leaves and flowers dry.
Larger plants
Like high impact plants, larger plants can make a dramatic statement and can be a stylish focal point in your home. They're easy to care for and are able to survive for longer in more challenging locations than their more delicate counterparts. Some of the more common choices include yuccas and other palms, as well as the ever popular leafy dragon tree.
Palms
Reminiscent of their tropical origins, the palm brings a relaxed atmosphere to your home. Although, they are unlikely to bloom indoors, palms will produce succulent vegetation without having to constantly water them.
If you have limited space, then you can discourage them growing any larger by keeping them in a smaller pot. However, if you want them to keep growing larger through the duration of their life then annual re-potting will encourage growth.
To keep the appearance of the leaves looking shiny and healthy you can use specially formulated wipes such as Baby Bio Leaf Wipes. These remove dust and dirt from the leaves of your house plant, and keep the pores open so the leaves can absorb more sunlight.
Dragon Tree
For homes that need a splash of vegetation the Dragon Tree is ideal. Similar to the palm tree, it requires minimal maintenance and prefers locations away from direct sunlight.
When fully grown, their shiny leaves sprout from two or more stems. Remember, the bottom leaves of your dragon plant shed regularly so don't worry, it just means the plant is growing well. The same as palms, the dragon tree can be encouraged to grow through annual re-potting and feeding, allowing its roots to spread and the branches to grow further.
These tropical plants like warmth but they don't need to be put in front of a heater or radiator. This can dry out the soil and prevent the plant getting all the nutrients it needs to grow.
House plant care
Indoor plants are a popular accessory for smaller homes or flats that don't have a garden of their own. They need lower maintenance compared to their outdoor counterparts, but still need to be checked for pest and fungal infections every so often.
When thinking about container plants you need to remember that they will eventually run out of nutrients in the soil. To keep the plants thriving and healthy you should think about applying products that are specially formulated to provide plants with all the essentials nutrients they need. Products such as Miracle Gro Continuous Release plant food are perfect when caring for your plants.
Always remember to read the instructions and specific information on any products that you use on your plant as some are more suited to outdoor plants or for specific species of flowering plant. These products will help feed your plants for a long period of time, so you don't have to top up on a regular basis (unless the instructions say you should of course!)
Many houseplants will benefit from regular leaf misting using a trigger spray. This clears them of dust and dirt and at the same time increase the humidity. However, you should never soak the leaves, as this could lead to mould or damage.
As with all potted plants, you need to make sure they have enough room for their roots to spread and grow. A palm tree will not flourish in the same sized pot as Rosemary or Thyme herbs, so keep a careful eye out for any roots poking through the soil.
If this happens, all you have to do is simply move the plant into a larger container filled with fresh compost, and watch as your plant happily renews its lease of life.
Articles