How to care for an orchid
Keep orchid houseplants looking healthy
Most people are nervous of keeping orchids as they think they are fussy or difficult to care for. This is not the case. Orchids are beautiful plants which will suit most homes or office spaces with very little effort.
The most common orchid in the UK is the Phalaenopsis or "Moth Orchid". This guide explains how to look after one.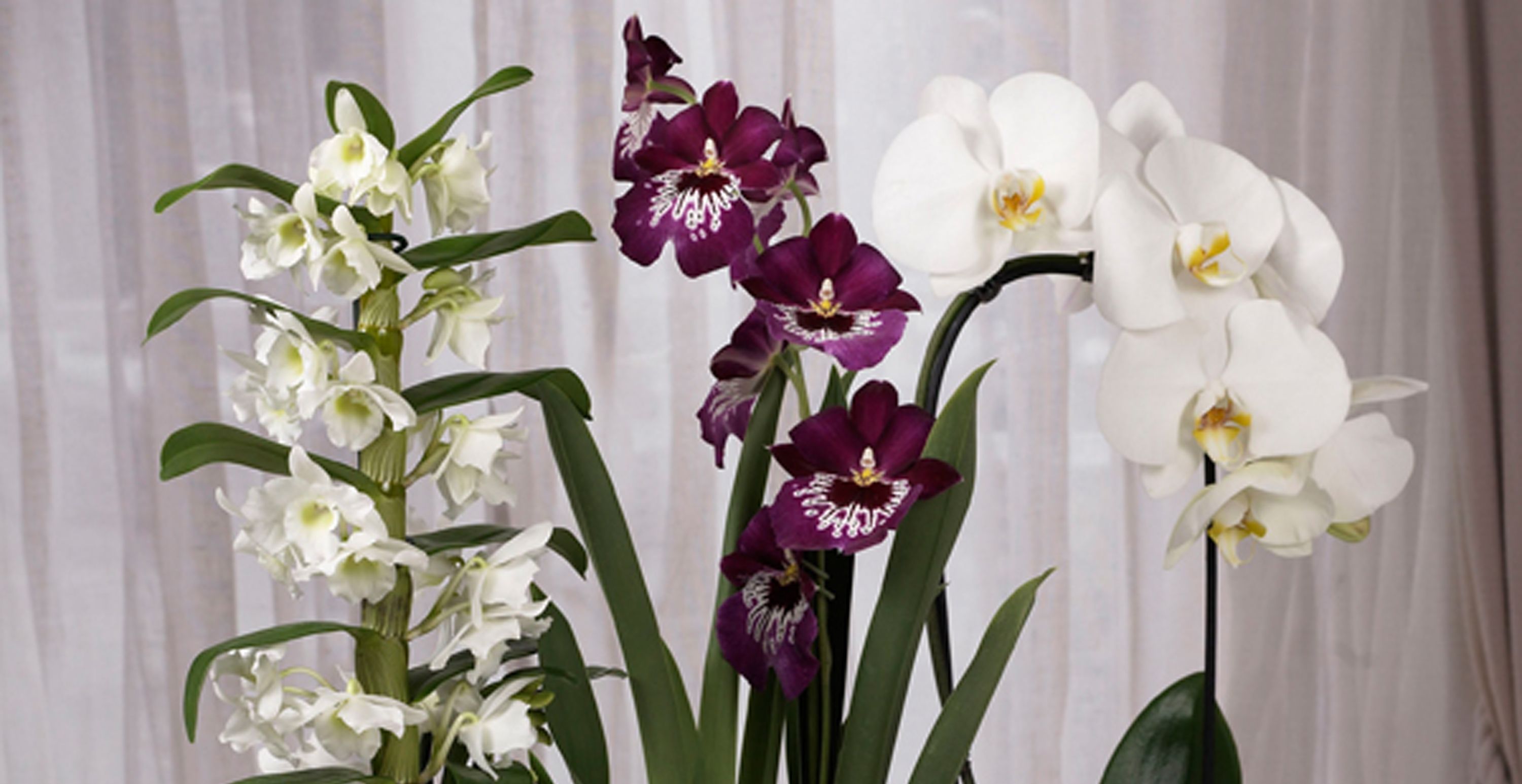 Keeping an orchid
Caring for your orchid is easier than you might think.
Step 1 - Don't leave it in direct sunlight

Orchids do like light but can scorch, so a window that receives full sun or a stifling conservatory can be too much for them.

Step 2 - Water, but not too much

A lot of Orchid lovers water once every two weeks as a general rule, but it's often easier to simply water when the soil is nearly dry as this will prevent over or under watering. Be careful not to get water on the leaves as this can damage them and turn them yellow. If they do get wet then wipe dry with a tissue or cloth. If you start to see signs of water damage then hold off from watering for a few weeks.

Step 3 - Enjoy a cool breeze

Orchids love office environments as they have air conditioning. This means they are at a constant temperature and can feel the air on their leaves. This is similar to existing in the shade of a large tree. You can easily achieve this at home by placing your Orchid near a window or door which is opened regularly.

Step 4 - Feed when flowering

Orchids put a lot of effort into flowering and the flowers can last for months, so if you want to give your Orchid some extra plant food it's best to do so when it's in flower. A happy Orchid can be in flower all year round if well looked after.

Step 5 - Re-pot in Orchid compost

Orchids naturally live in trees with their roots running along branches. While Orchid compost does contain some soil it mostly contains wood and plant matter which is much better for your Orchid's health and happiness. Don't worry if your Orchid decides to sit on top of its compost or if its roots begin climbing the sides of its pot. Its natural habitat allows it to expand and explore. Simply re-pot to a larger size.
Handy tips for flowering Orchids
Orchids are normally bought when in flower, but once they are finished it's essential that you act right away to ensure they will flower again.
When the last flower drops off you need to cut the stem. Looking from the bottom up you should see little bumps in the stem. These are called "nodes" and they sometimes have leaves growing out of them. You need to cut the stem just above (not on) the second node from the bottom. This will allow the Orchid to keep nutrients inside instead of sending them down a stem which no longer has flowers to feed. If you are lucky this could encourage the plant to grow another stem out of the top node right away.
If you don't get immediate stem growth, then in six months to a year you should see some growth from the top node. This will become a stem which will then produce flowers. Repeat as often as your Orchid allows, some flower more often than others.
To trigger flowering in an Orchid ready to bloom it needs a small drop in temperature for approximately four days followed by returning to normal. This could be achieved by putting the Orchid into a cool cupboard for four days, but be careful if normal is particularly warm as the plant may not like being warmed up very quickly. You may need to put it somewhere a littler cooler to acclimatise before reintroducing it to its normal spot.
Growing more Orchids
Orchids produce young in a similar way to another common house plant, the spider plant. If an Orchid is kept in exactly the same conditions for a long period of time (i.e. no change in light, temperature, air flow or water level) it will decide that it is time to produce another Orchid plant.
To do this, you will see a stem grow from a stem on the plant. This will initially look like it's making another flower stem but will soon thicken up. It will then produce more so it looks like a small spider-like plant growing from the original plant's side. This is a collection of roots, above which will form leaves to become a mini Orchid plant.
Once the roots are more than 4cm long it's safe to transplant the baby plant into its own pot. To do this you need to sterilise some scissors and simply cut it off where it is attached (careful not to damage the roots or main plant) and place in Orchid compost. The baby plant may take a year before it flowers but in some cases could flower sooner.
Articles