Lay grass to create an instant lawn or revive a tired one
Add instant greenery to your garden by laying turf.
Turf is pre-grown grass seed that's been cut from the ground with a slice of top soil. Almost like an outdoor, grassy carpet, it can be laid to fix patchy areas in an existing lawn or to create a grassy area completely from scratch. Turf is laid in rolls making it a relatively straightforward garden project - simply unroll it (it's rolled up for easy handling), lay it and wait for it to take root.
Read on to find out when's the best time to lay turf, how to buy it and how to lay it.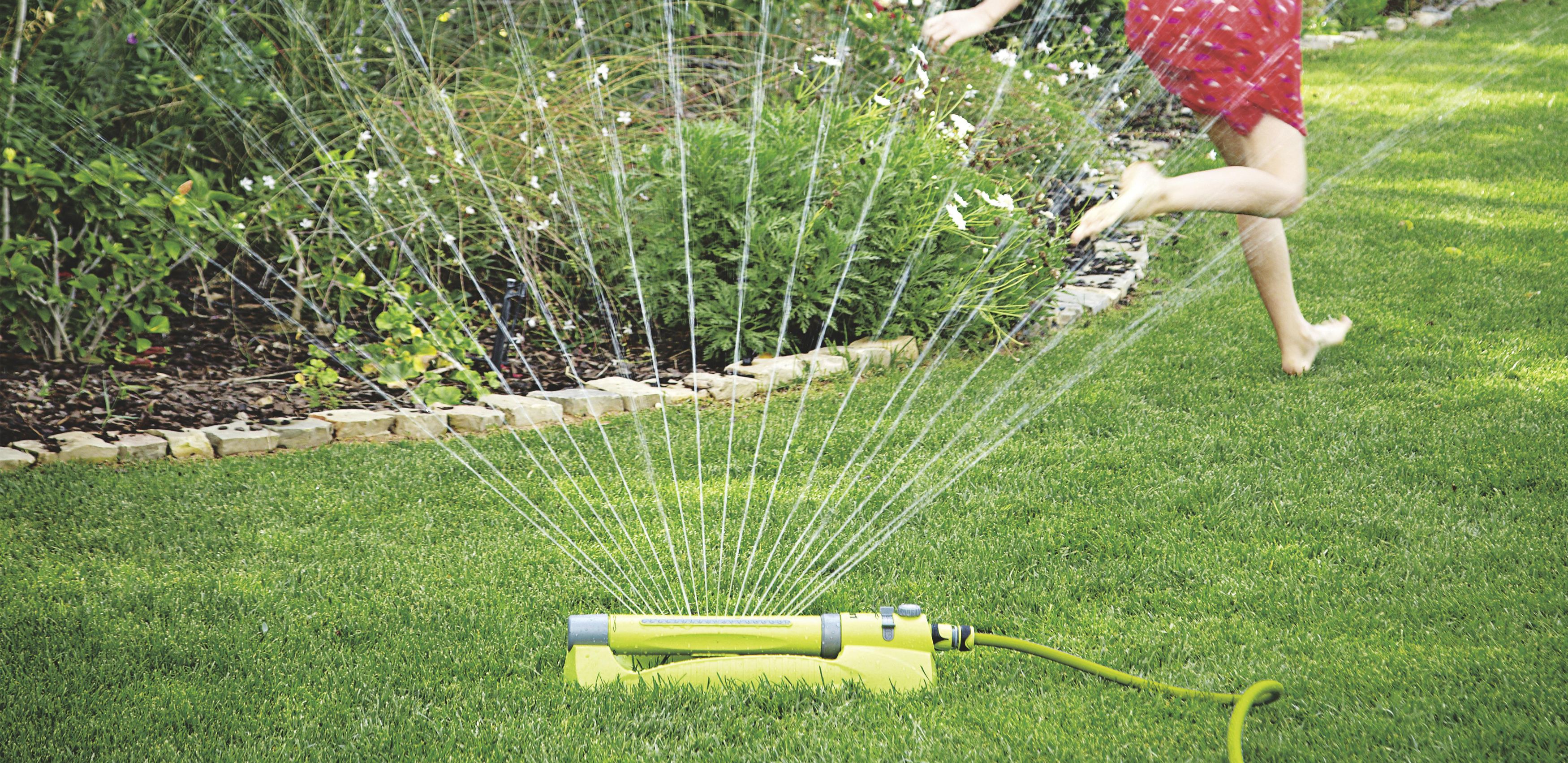 Before you begin
When's the best time to lay turf?
You can lay turf at almost any time of the year, as long as the soil isn't waterlogged or frozen. We recommend spring and early autumn as the best times. Check the weather forecast before buying your turf to avoid any prolonged wet weather, as well as frosts.
How to buy turf
Before buying turf, calculate the amount you'll need to create your intended lawn. By working it out beforehand, this should help avoid buying too much or too little. Follow the below steps and ensure all measurements are in the same units.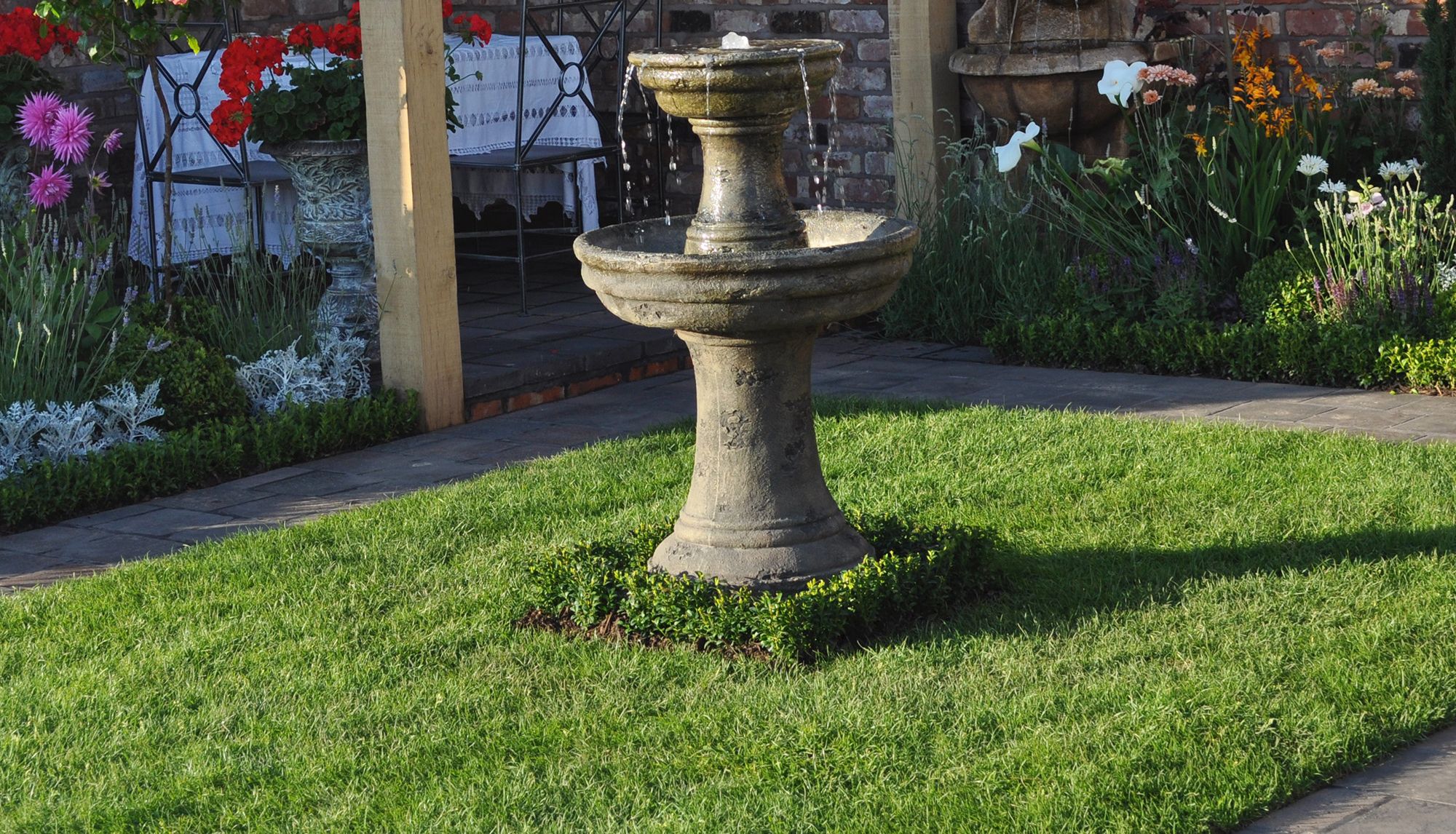 Step 1: Calculate the surface area of the intended lawn
Measure the length (L) and width (W) of the area.
Add 100millimetres (mm) to both measurements - this buffer allows for trimming and joining.
Multiple the length (L) by the width (W).
L x W = Lawn Surface Area (LSA) in m2.
Step 2: Calculate the coverage of the turf rolls
Multiple the roll's length (RL) by its width (RW). Our online turf rolls have a standard length of 1370mm and a width of 610mm. While the wildflower turf roll has a length and width of 1000mm.
RL x RW = Single Roll Coverage (SRC) in m2.
Step 3: Calculate the number of turf rolls required
Divide the Grass Surface Area (GSA, as calculated in step 1) by the Single Roll Coverage (SRC, as calculated in step 2).
GSA / SRC = Total number of turf rolls needed.
At DIY.com, we offer turf rolls in multipacks, or head in store to pick up single rolls to achieve the exact number needed. Like all seasonal greenery, turf isn't available throughout the year from our stores and stock can be limited, so do be sure to check that the store can fulfil the total number of rolls required before loading up your trolley.
We recommend preparing the site before buying your turf and laying it within 24 hours of its arrival. If you buy and are unable to lay within 24 hours due to bad weather, unroll the turf and lay it flat and out of full sun, making sure it doesn't dry out.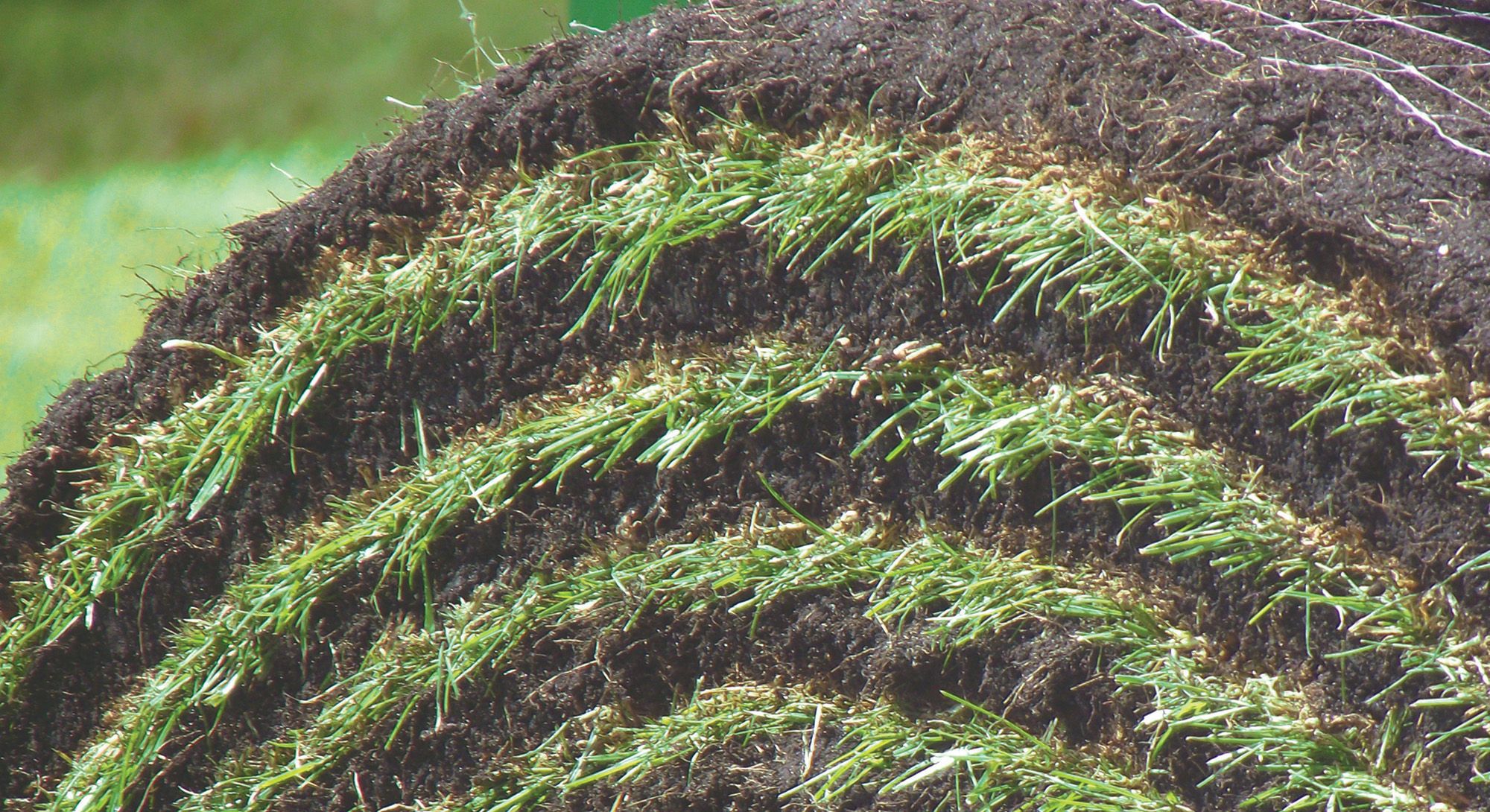 You might need
Materials:
Tools:
Protective kit
How to prepare the site
Step 1
Remove any existing grass by under-cutting it with a garden spade or edger.
If you have a large area, consider hiring a turf cutter for a quicker and easier option.
Step 2
Dig over the area to a depth of about 15centimetres (cm) and remove all debris, large stones, weeds and old tree roots.
Use a tiller or cultivator to help with tougher, uncultivated areas or large sites.
Top tip: Deal with heavy and poor quality soils
If the soil where you're planning to lay your turf is poor in quality, or heavy in texture (such as a clay soil), dig in a 50/50 mix of top soil and sharp sand at this point to improve the drainage qualities.
Step 3
Use a garden rake to rake over the ground to produce an even surface.
Firm down the soil by lightly rolling it with a garden roller or by treading the area down with your feet.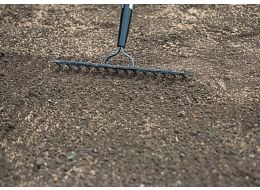 Step 4
Rake it over again, repeating the process until the whole area is level, even and firm, but not compacted.
Sprinkle granules of pre-turf fertiliser over the area following the instructions on the pack, and lightly rake them in. This helps the rooting process, so your turf becomes established more quickly.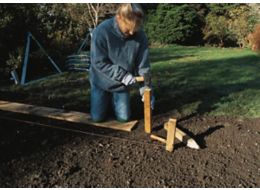 Step 5
Mark out the exact boundaries of the lawn using a builder's line and sharpened wooden stakes or pegs. Drive them into the ground with a club hammer.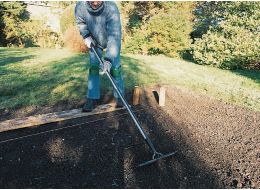 Step 6
Rake your soil one last time – remove any last stones and make sure that it's level. You'll then be able to immediately lay your turf.
How to lay turf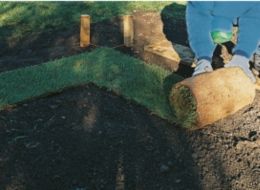 Step 1
Lay your turf along all the edges first, with the longest sides of the turf parallel to the boundary line.
Before laying it up to the hard edges of paving or stepping stones, check that the top of the soil is level with the edging and even out as necessary. Having the surface of your lawn slightly higher than the surrounding hard edge will mean you can mow right up to the edge.
Trim any untidy edges with an edger or long-bladed knife
Step 2
Lay a timber board to use as a platform to work from and start laying turf strips from left to right. Stagger the joints in the same way as brickwork, from row to row, to avoid unsightly joins.
Butt the ends and edges tightly together without stretching the turf, so there are no visible gaps.
Step 3
Fill any hollows in any of the turf by peeling back the strip and filling beneath it with top soil before replacing it.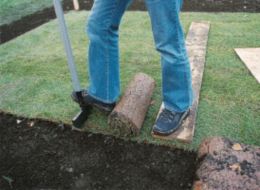 Step 4
Cut turf strips to size using an edger. Then tamp down the edges of adjacent strips with the flat edge of a garden rake.
Sprinkle fine top soil into any gaps between the turf and brush over with a soft broom for even coverage.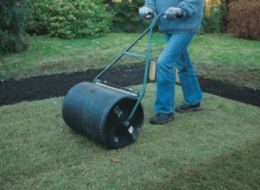 Step 5
Finish by rolling your finished lawn with a garden roller to level the turf and bed it into the soil.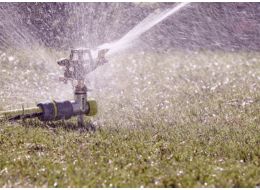 Step 6
Water the newly-laid lawn well - a sprinkler is ideal as it offers even coverage. Continue to do so regularly until its established.
In spring and summer, this could mean watering it once or twice a day. And look out for warm or windy weather. The lawn will dry out most quickly in these conditions making the turf shrink and create unwanted gaps.
Top tip: Keep watering during hosepipe bans
Check with your local water authority before using a hosepipe and sprinkler to see if there's a watering ban in your area. If there is, use rainwater collected in a water butt and water your lawn with a watering can.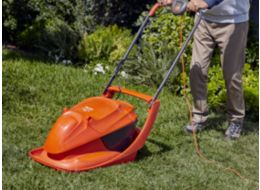 Step 7
Avoid walking on your new lawn for a couple of weeks so the turf can bed in and knit together.
Only mow it once the turf has rooted, Find out if it's rooted by gently trying to lift an edge: if it won't come up, it's taken root. Set the lawnmower blades at the highest setting and take off no more than a third of the grass height each time.
If you've laid your new lawn in spring, begin feeding it with a lawn feed after two months. If you laid it in autumn, it won't need feeding until the following spring.
Articles