Introduction
Planning a new bedroom gives you the chance to create a tranquil haven in a busy home. It's a place where you can relax, read, watch tv or listen to music - and, of course, sleep comfortably.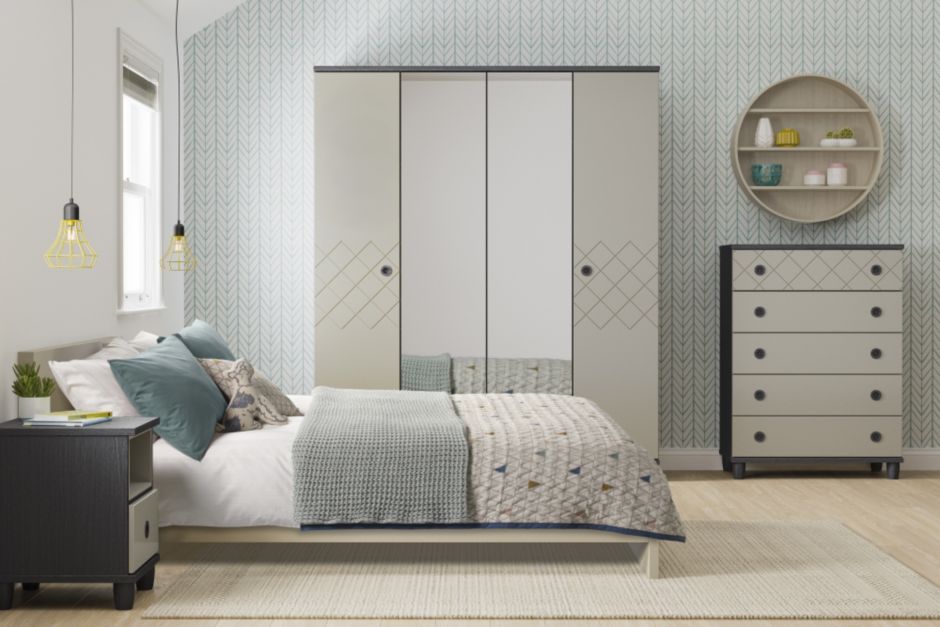 Designing your dream bedroom
Take a good look at your existing bedroom layout and see what works - and what doesn't. Is your bed in the best place? Do you have enough storage for your clothes? Be creative, and play around with different ideas for making the most of the available space.
Get the most from your space

Clear away the clutter and you'll create a more restful bedroom straight away. The best bedroom plans put every inch of space to work, and help you boost your storage space with as few large pieces of furniture as possible.

First, think about the items you need to store. You'll need hanging space for most of your clothes, internal shelves or drawers for jumpers, bridging cabinets for bulky items, and enough drawers for items like underwear and socks. It's also worth considering the ratio of long hanging space to short. Most women's clothes hang, while about half of men's are better stored folded. Bridging cabinets on the wall over the bed are great for storing those bulky items you don't need that often.
Bedroom furniture
When it comes to bedroom furniture there's something to suit every taste and space, in styles from traditional to ultra-contemporary.
Freestanding furniture

Freestanding furniture is very versatile, allowing you to arrange and rearrange your bedroom layout however you like. It comes flat-packed or ready-assembled, and you can add more pieces as your needs change.

Modular style

Whatever the shape and size of your room, you can really make the space work for you with modular furniture. You can choose all the components - cabinets, doors, chests, handles and materials - from a wide range of styles and sizes of units to create your own individual furnishing solution, tailor-made for your bedroom.

Children's furniture

Freestanding kids' furniture means you can easily achieve a new look with a lick of paint and a change-around. If your floor space is limited, consider a high sleeper bed; if sleepovers are likely, look at Z beds; for homework, choose a standard or pull-out desk.
Bedroom storage
Attractive storage systems can come free-standing or built-in. While free-standing wardrobes have the advantage of being moveable if you want to change the room, they don't hold as much as those that are built-in. You can also fit a built-in system into an alcove or another irregular space.
Built-in storage with sliding doors

Wall-to-wall sliding-door wardrobes are elegant, practical and easy to install. You can choose rails, shelves and drawers to suit your needs, and order sliding-door systems off-the shelf or made to measure. Look for soft-close sliding doors with a smooth and effortless closing action. Finishes range from wood to chic gloss panels or glass. If your room layout won't allow you to fit doors wall-to-wall, you can build a false end using plasterboard, MDF or a colour-matched decor panel.

Walk-in storage

If you have the space you could create the ultimate luxury: a dedicated walk-in storage area or dressing room, separated from your bedroom by wall-to-wall sliding doors.

Storage accessories

Bring order to your storage space with an extensive range of accessories, including shelves, hanging rails, drawers, shoe racks, a laundry bin, trouser or skirt rack, and storage boxes.
Colour
Colour plays a big part in creating a pleasing atmosphere, as well as making your room appear larger or smaller, warmer or cooler.
An all-white room can look cold and stark, while neutral shades like cream add a touch of warmth. Likewise, shades of pink are warmer than blues. If you want a strong colour or design, you could have one feature wall and paint the other walls a complementary colour.
You could also give your bedroom furniture a stylish finish with colour-matched decorative panels and trims in cream or wood effects such as maple, walnut and oak. The bedroom is also the perfect place for pretty fabrics - bed spreads, curtains and cushions - and colourful soft rugs
Lighting
The right lighting in your bedroom can make a huge difference to how it looks, as well as to how efficiently it functions. You can find stylish lighting options for everything from classic and contemporary ceiling lights and pretty bedside lamps to LED lighting for the insides of drawers and plinths at the bottom of cabinets. You can even have an illuminated hanging rail fitted in your wardrobe, which won't need wiring as it uses battery-powered LED lighting.
Making a plan
As you develop your ideas, make a rough sketch of your bedroom including all the fixed features like doors, windows, radiators and electrical sockets. Then take precise measurements of your room.
Remember that walls are rarely completely straight, so take measurements at three heights and widths, and always work with the smallest measurement. Draw a plan on graph paper, or use the interactive room planner on diy.com.
Position furniture on your plan, starting with the bed as it's the largest item. Avoid pushing it against a radiator and make sure you leave room for a bedside table or chest. Also, make sure you allow enough space for wardrobe doors and drawers to open (or choose sliding doors). Play around with a few different layouts to find the one that really works for you.
How to Measure a Room
Articles