Planting & digging garden hand tools buying guide
The right tools to prepare the soil for planting
It's essential to use the right tool for digging, weeding and planting in your garden. Whether you're an experienced gardener or new to getting your fingers green, simply using the best tool can make garden maintenance a breeze.
But with so many to choose from, it can be confusing to find the right garden hand tool for your outdoor job. Perhaps you're digging over a patch of ground that hasn't been worked on for a long time, or just want to maintain the beds and borders you already have. Either way, achieving the garden look you want shouldn't be back-breaking work.
That's where we can help. Here's our guide to help you find the perfect garden hand tools for digging, weeding and planting to make gardening simple and fun.
Shop all planting & digging garden hand tools

Before you begin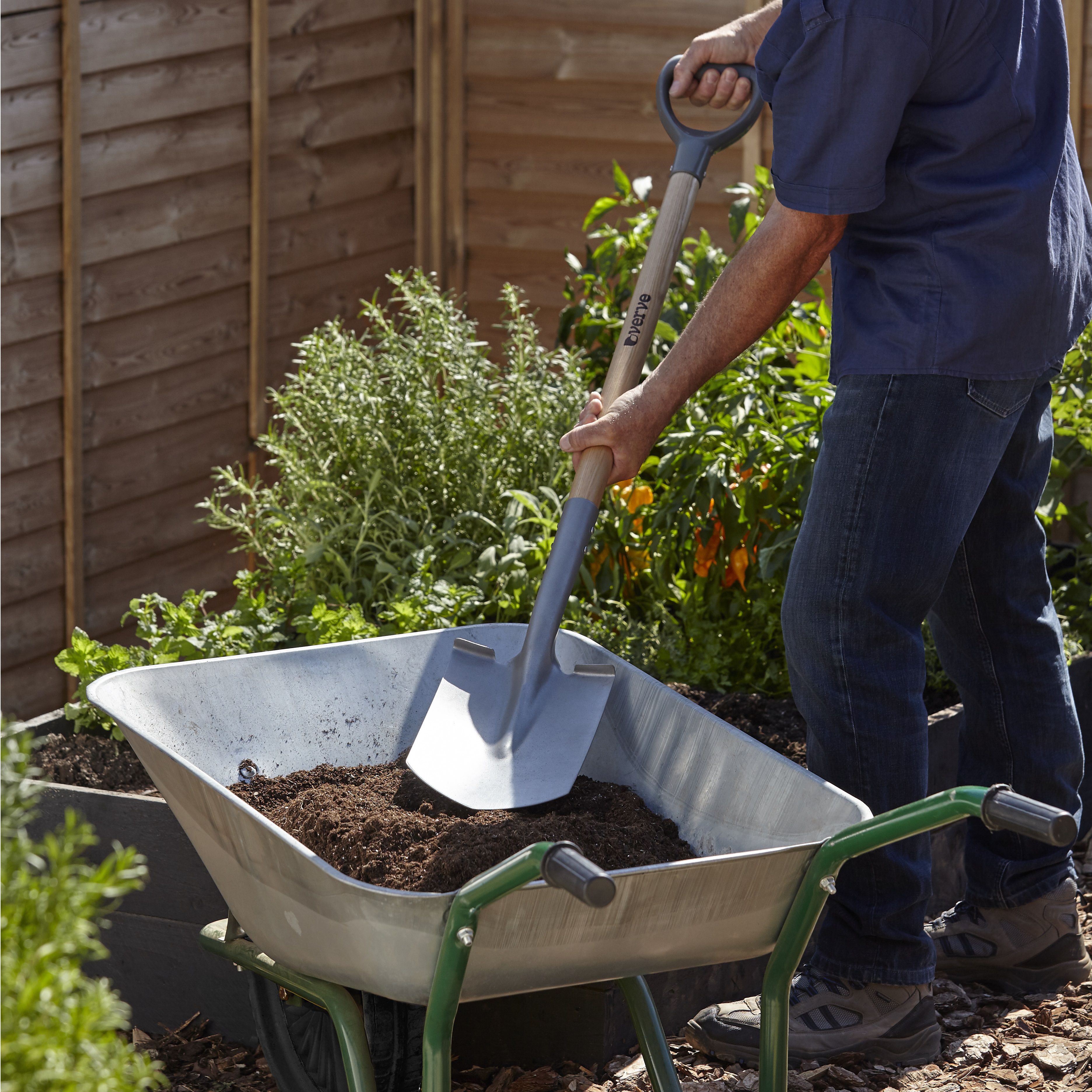 What gardening jobs are you doing?
Have a think about what jobs you'll be tackling in the garden - this will help you choose the most suitable tools. For example, are you picking through already loosened soil to remove weeds? Or are you digging very compacted soil that has had very little work done on it?
If you're creating new beds and borders, you'll need to stock up on tools that not only help you establish the area, but also help you dig over the soil. Digging over unprepared ground improves drainage and introduces air – this helps speed up the breakdown of organic matter, which releases more plant nutrients into the soil. This is obviously important prior to planting seeds, new plants, shrubs and vegetables.
With all this considered, we recommend smaller, thinner tools for manoeuvring around established plants and shrubs, while bigger, more hardwearing tools are better suited for digging over unprepared ground.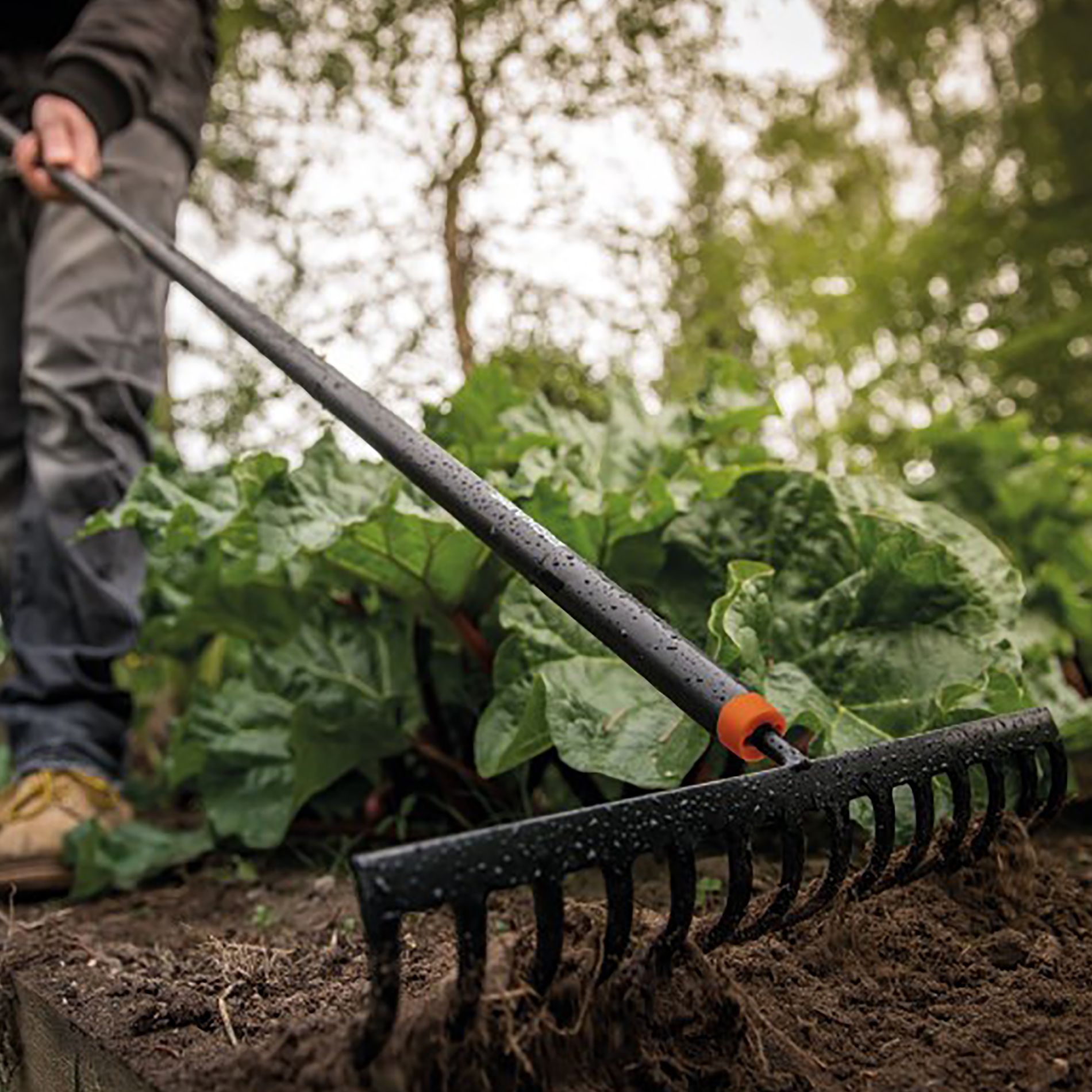 What's your soil like?
Soil type determines the type of tool you'll need. For instance, if you have heavy soil that's difficult to break up, or soil that's full of plant material, you'll need heavy-duty tools that'll make light work of it. Lighter, looser soil with little plant material can be worked on with lighter tools.
For more on how to understand your soil, head to the "What type of soil is in your garden?" section of our planting article.
How tall are you?
Don't forget your personal comfort when planning to work in the garden for any period of time. Avoid an aching back by choosing the right length tool for you. If you're tall, we advise selecting a longer option, so you don't have to stoop too low.
Weeding & ground preparation tools
Tools include: Garden shovels, garden forks, hand forks, hoes and cultivators, root breakers, weeders and soil rakes.
Ergonomic or soft-grip handles
A variety of handle lengths and blade head widths to suit the material you're lifting
The choice of two sizes – standard and micro. Micro garden shovels are easier to store in your car and suit working in tight spaces.
Digging forks – These are for heavier jobs such as digging heavy, compacted soil. They're particularly useful on clay soil, as the soil doesn't stick to the tines of the fork as readily as it does to the flat blade of a spade.
Border forks – These are slightly smaller and lighter than digging forks. Because of this, they work well in more confined areas where a larger tool might damage plant root systems. They also have shorter tines, making them easier to use, especially when you don't want to dig too deep.
Our garden forks are available with:
A steel or carbon steel head
A durable ash wood or lightweight composite handle
Comfort grip handle
Different widths to suit the area you're digging in.
Dutch hoes are your go-to tool for earthing up potatoes, onions and celery, and the corners of the blades can be used to draw a narrow trench or drill for sowing seeds.
Draw hoes – Draw hoes have a downward-facing blade set at a right angle to the shaft. Use them to chop into the ground and then pull towards you. This action of pulling, or drawing, gives the tool its name. They are a great tool for cultivating the soil to a depth of several inches.
Cultivators work in a similar way to hoes – breaking up soil and compacted ground. Unlike hoes, they feature three prongs, rather than one blade and they're available in smaller versions called hand cultivators (also known as small-toothed cultivators).
Our garden hoes and cultivators are available with:
Carbon steel blade/ prongs. Look for ones with a rust-resistant coating to prolong the life of your tool.
Durable ash wood or lightweight composite handle
Comfort grip handle
Rope hanger for easy storage.
If you need to turn larger areas of soil, consider investing in a powered cultivator or tiller.
Planting & digging tools
Tools include: garden spades, garden trowels, transplanters, scoops, dibbers, bulb planters, pick axes, mattocks, augers.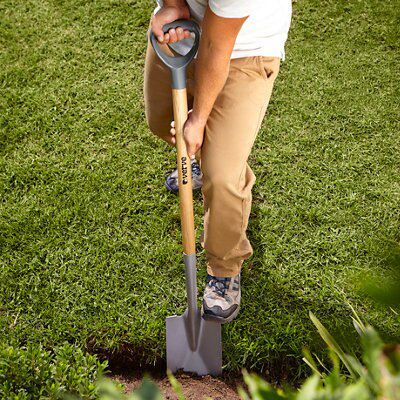 Garden spades
Use to cut through roots and plant material and scraping
Garden spades may look like shovels, but they're built to work very differently. There are two types of garden spade: digging spades and border spades.
Digging spades – These are heavy-duty and designed for heavier work, such as digging unprepared or heavy soils
Border spades – This type is smaller and lighter and is for working in confined spaces, such as among growing plants in beds and borders.
They can also be used for setting new plants, bulbs and seedlings.
Our garden spades are available with:
A carbon steel head
A square or pointed head. Square heads are best suited to edging, while pointed heads are better for cutting through compact or rocky ground.
A durable ash wood or lightweight composite handle
Ergonomic or soft-grip handles
Various head widths to suit different jobs.

Garden hand trowels, transplanters & scoops

Use to dig and scoop soil in compact spaces

If you need to manoeuvre around existing plants, or want to dig out weeds with minimal soil disturbance, get yourself a hand trowel. They're also great for planting out bulbs and seedlings, as well as re-potting plants in beds and containers. Transplanters work in the same way, but their heads are narrower. Scoops are perfect for moving compost into pots, troughs and hanging baskets with minimal spillage.

Our garden hand trowels, transporters & scoops are available with:

A steel or plastic blade. Look for metal blades with a rust-resistant coating for lasting strength.
A durable ash wood or lightweight composite handle
Ergonomic or soft-grip handles
A hanging hoop for convenient storage.

Dibbers & Bulb planters

Use to prepare the soil for planting seeds, seedlings or bulbs

Dibbers are a small stick that is pointed on one end. Also known as dibblers or dibbles, their sharpened head is used to make a hole in the soil ready for planting smaller items, such as seeds and seedlings.

Our dibbers are available with:

A steel or plastic head
T-bar or L-shaped handles made from plastic

Comfort grip handle
Different lengths and widths to suit your planting needs.
For larger holes, pick up a bulb planter (pictured). These lift and hold the removed soil, giving you a chance to plant a bulb in the newly-created hole. Then simply release the soil back onto top of the bulb when needed.
Our bulb planter is available with:
Steel head
Plastic handle
Comfort grip handle.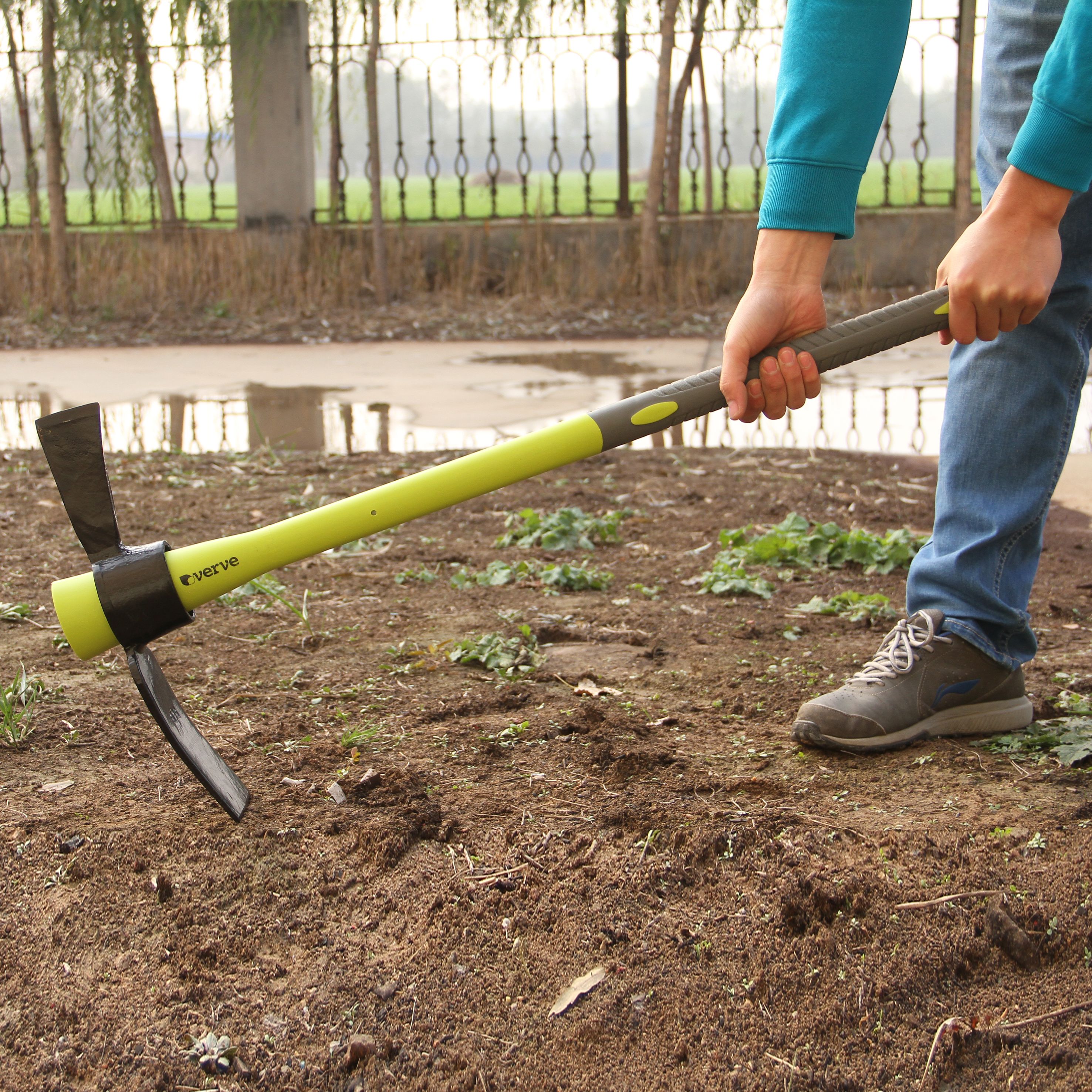 Pick axes and mattocks
Use to break the surface and dig into firm soil
These two tools are often confused as they do similar jobs – albeit in different ways. A pick axe (pictured) has a pick (or axe) at one end and a slim chisel on the other. Whereas, a mattock has a horizontal blade (or anze) on one end and a pick on the other. The pick axe's blade is used to cut vertically, while the mattock's blade cuts horizontally. This makes them a great combination when cultivating soil – break the surface with the pick axe and then work the soil with the mattock.
Our pick axes and mattocks are available with:
A carbon steel blade
Hickory wood or fibreglass shaft
Shock-absorbent handles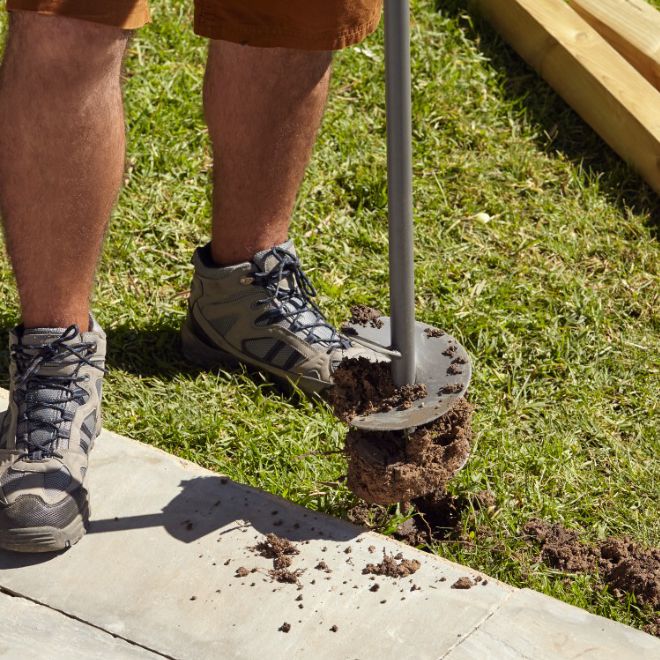 Augers
Use to create holes in soil for larger plants or vegetables (or fence posts)
An auger offers a non-powered way to drill a sizeable hole into the ground. This can be for the planting of large plants, though is most commonly used to create holes for fence posts. Because of this, they're also known as a post hole digger, along with earth auger, soil auger and auger drill.
Our augers are available with:
A carbon steel blade
T-shaped carbon steel handle.
You might need
Now let's stock up on those extra bits and pieces that you might need.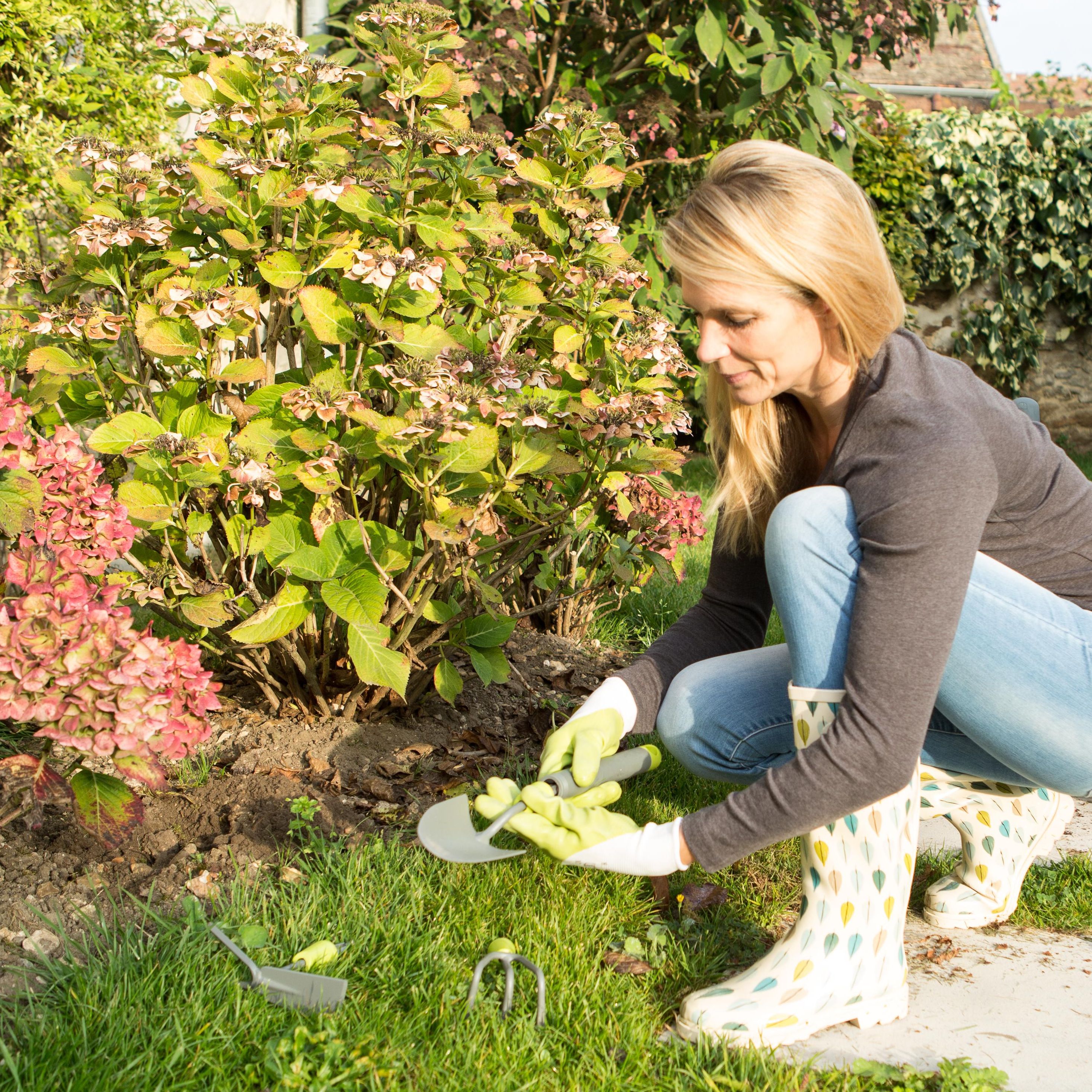 Protective kit
Consider some gardening gloves to limit your chance of blisters when gardening for extended periods of time. Choose a leather and cotton pair for the best protection. If you're going to be kneeling, invest in a kneeling cushion or seat to maintain comfort when digging and planting. And if you'll be digging up, opt for wellington boots.
Shop gardening gloves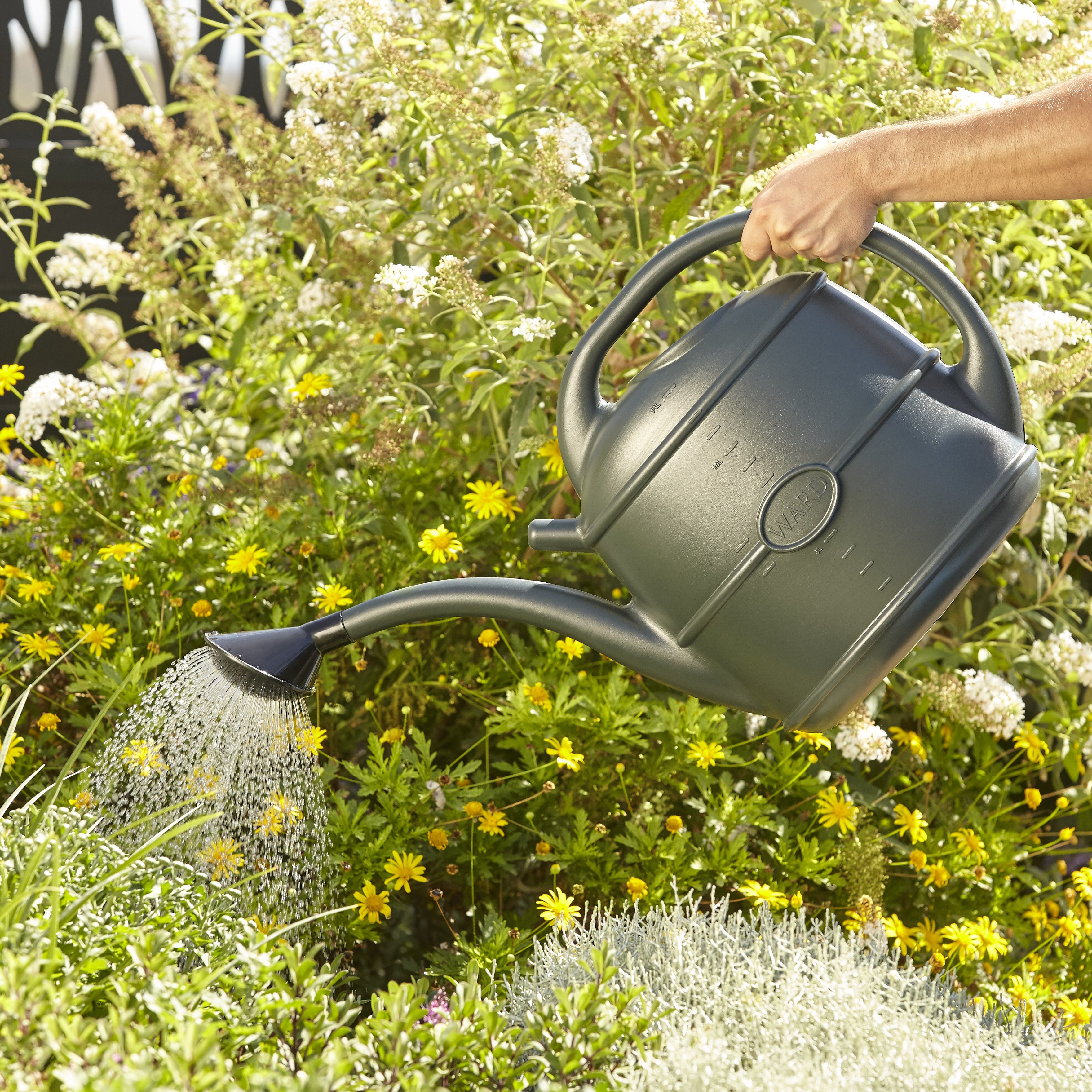 Soil and plant care
Depending on the type of soil you've got, you may need to do some work to ensure that it's in the best state it can be for growing your chosen plants. Add compost and soil improvers to help with the structure of the soil, as well as fertiliser and plant food to nurture the plants when planted. And don't forget to keep them well watered with a watering can.
Weed killer
Fed up of fighting off garden weeds? In addition to your weeders, you might want to explore our selection of weed killers. And for lots of tips on how to rid your garden of weeds now, and in the future, head to our helpful guide.
Articles