Storage furniture buying guide
Maximise your living space with our stylish storage ranges
Clever storage solutions are a great way to keep a house tidy and organised. Storage helps us keep clutter at bay and can turn the smallest nook into a space to keep your things. Storage is generally a very practical consideration but, with our ranges of customisable systems, you can use your storage solutions to inject a bit of style and personality into a room.
In a world where space is at a premium, and the rooms in our homes have to be increasingly multipurpose, real homes require storage solutions for real lives. At B&Q we have clever systems to suit every space, so let us talk you through the options and help you find the right one for your home.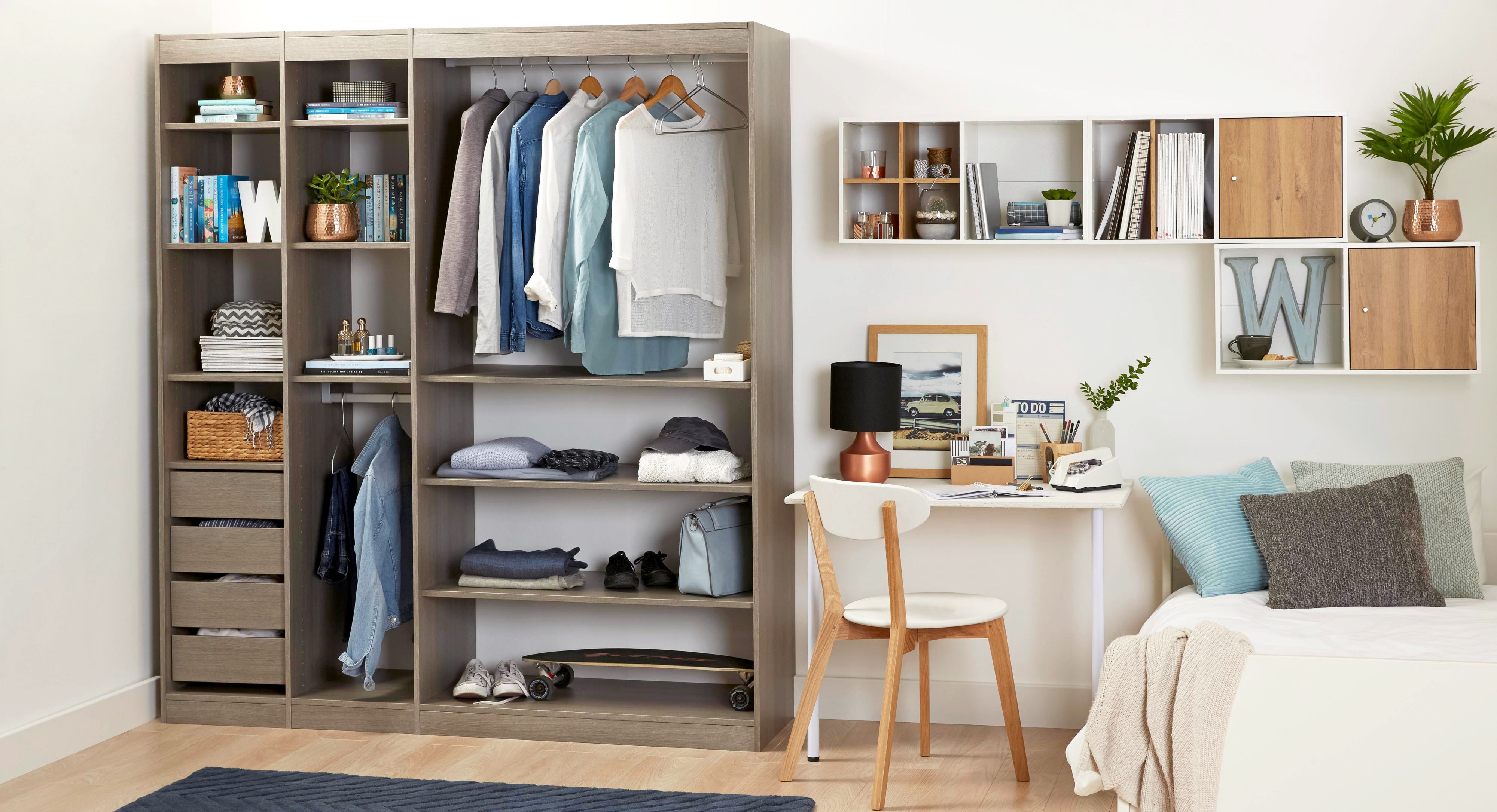 Storage solution systems
We have four different storage solutions systems available to choose from; Oppen, Perkin, Twinslot and Walltech. These storage solution ranges are customisable, wall-mounted systems that incorporate open and closed storage options. The defining features of these ranges are explained below.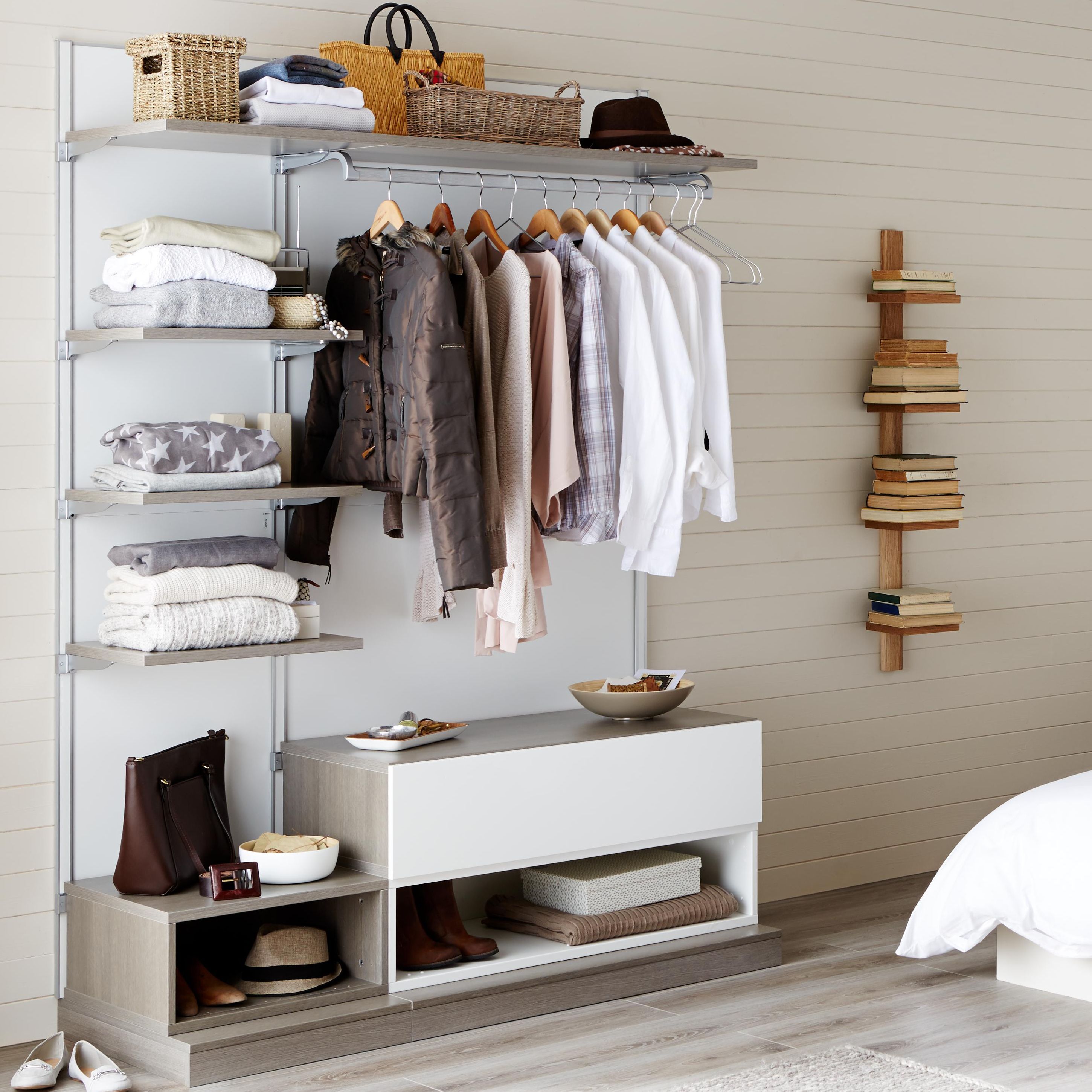 Oppen storage furniture
Oppen offers a great storage solution for all those awkward spaces in your home. This smart and very practical space-saving system makes the best use of a particular area, creating stylish and eye-catching storage opportunities.
Oppen is wall-mountable and completely customisable. Personalise yours with shelves, units, drawers or a mixture of all these things. Think about what you need to store, and which option best suits your storage needs.
How Oppen storage works: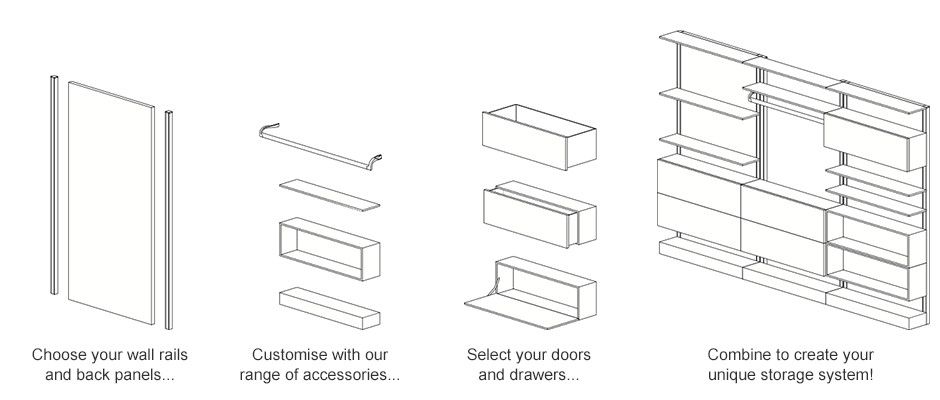 Perkin storage furniture
Perkin storage furniture is a range of floorstanding, customisable storage that you can design yourself. The units in this range come in white, grey oak effect, or natural wood effect. They are robust and stylish, and come in a choice of heights and widths to suit your space. Simply choose your shelves and drawers, then finish the look with panels and dividers to create a bespoke storage system that works within the space you have to play with.
How Perkin storage works: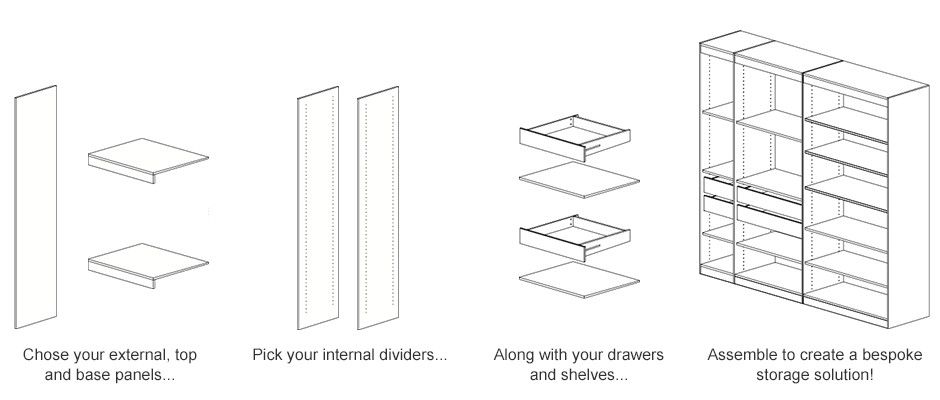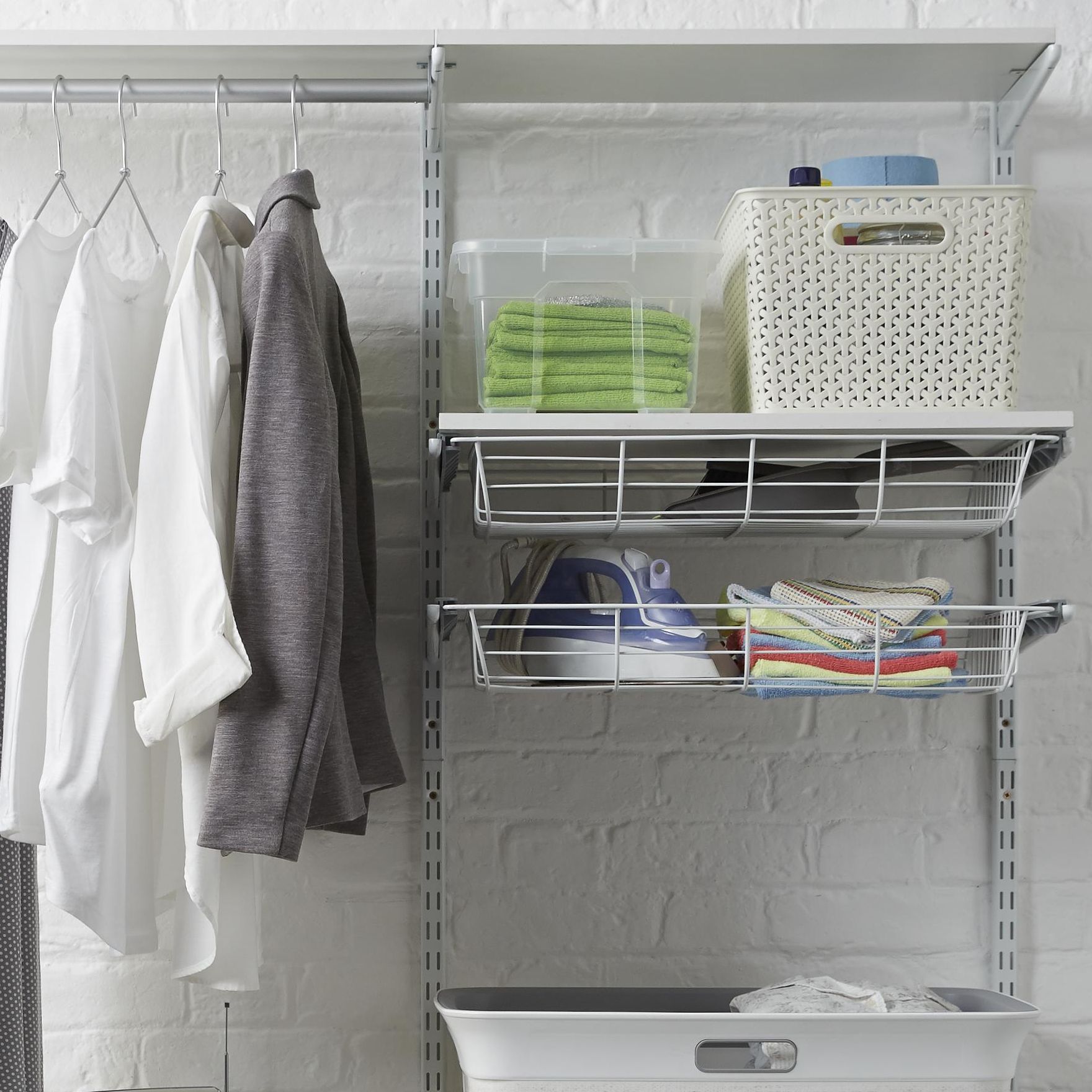 Twinslot storage system
Twinslot is a wall-mounted storage solution range, ideal for laundry areas or utility rooms, offices and garages. It has an industrial look and is strong enough to hold heavy items. The collection has lots of accessories available that you can use to personalise your storage to suit your needs. You can add clothes rails, shelves for shoes, wire baskets for general storage or even a hook to hang things like your ironing board on.
How Twinslot storage works: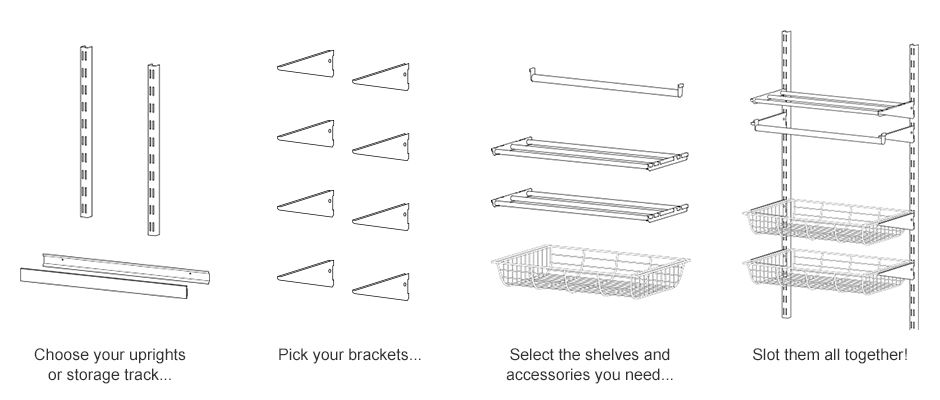 Storage cubes & units
Our ranges of storage cubes and units are a quick, easy way to organise and tidy up your home. We will talk you through the options that are available so you can pick the one that suits your style and space. Because these storage solutions are movable, you can put them wherever you need to really make the most of your space.
Storage alternatives
If modular storage furniture, or the large wall-mounted storage solutions aren't right for your space, have a look into our other storage options. We will have something to help you organise your world.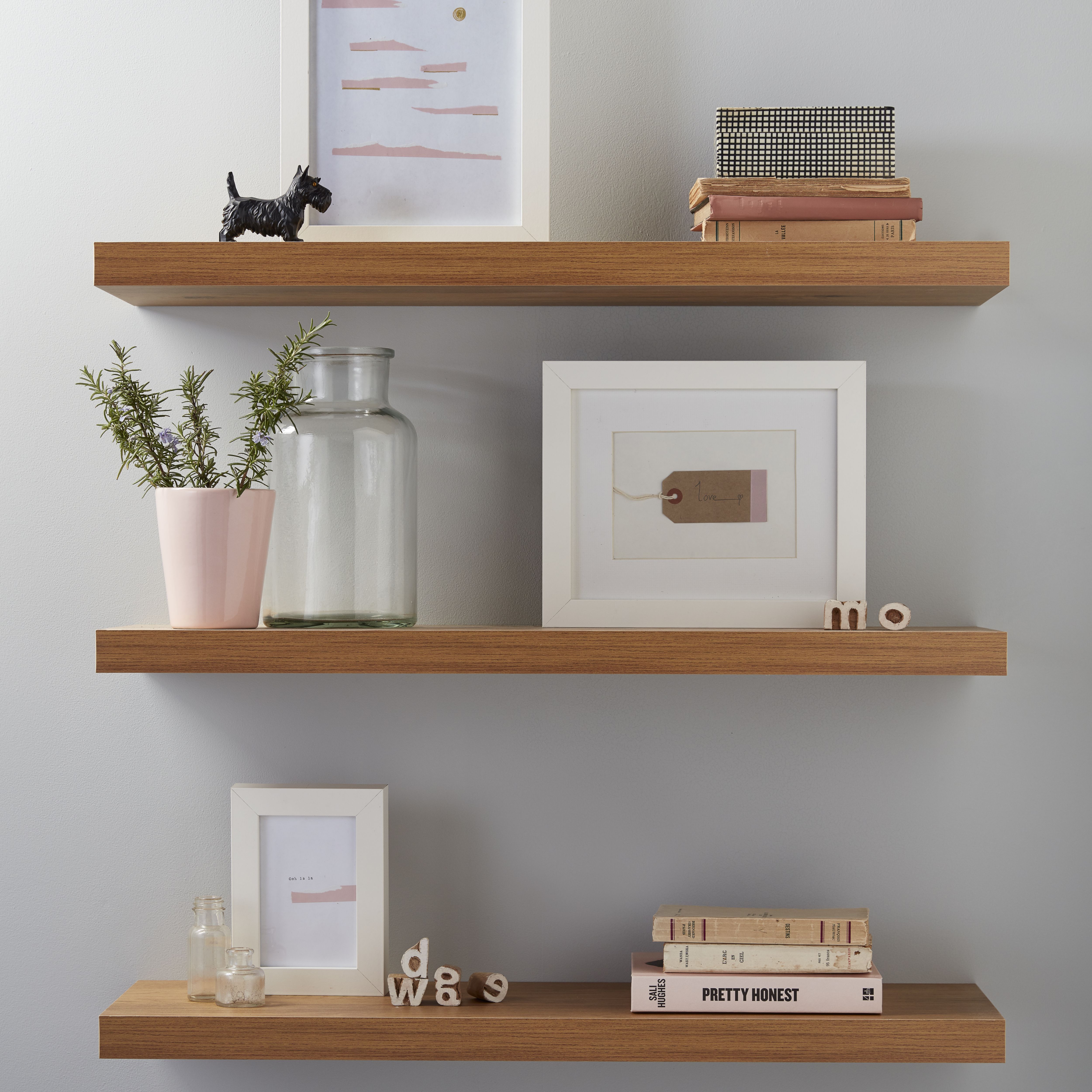 Wall shelves
Wall shelves help you to make a feature out of your storage. You can display your favourite items up out of the way, whilst keeping them in full view. We have a wide range of shelf boards and shelf brackets for easy installation or you can go for decorative or floating shelves for a modern look.
Our range of decorative shelves come in contemporary designs and shapes. We particularly love this floating hexagonal shelf for a way of adding sleek, geometric design into your room. This floating shelf with a built-in drawer gives you the option to display your favourite trinkets on top, whist also providing a compartment for hiding away other bits and bobs.
For advice on how to put up a shelf, check out our helpful article that explains what you need to do.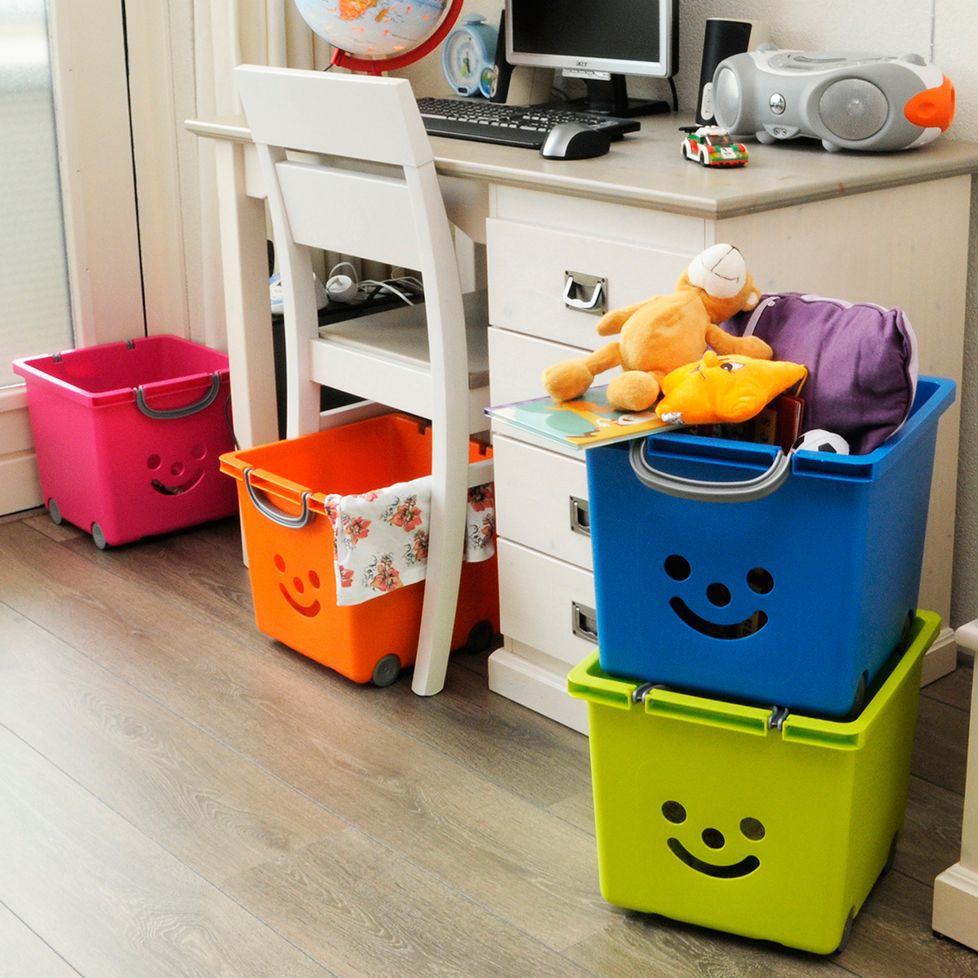 Plastic storage boxes
Plastic storage boxes are useful, functional and versatile. Ideal for storing items in lofts, garages, under beds or just neatly in a corner. We have plastic boxes in all sorts of shapes, sizes and colours from a box designed to store wrapping paper, to colourful children's smiley storage boxes (pictured).
Our Flexi-Store range of stackable plastic storage boxes come in eight different sizes to suit your storage needs. Fit them with dividers and trays to keep them organised and opt for the mix and match colour lids to colour coordinate. The Ultra Tough range has waterproof seals making it great for garages and workshops. Stack and store or group together on a shelving unit. Whatever you need to pack away, these handy storage alternatives can be filled up moved around and stacked to suit your needs.
Articles