What is TradePoint?
About us - we're all about the Trade
TRADE BRANDS - TRADE PRICES - TRADE ONLY
TradePoint is here to help the Trades get the job done without the hassle. We're already helping over 1 million TradePoint members and we're doing this by opening longer hours, giving lower prices and offering easy ways to order plus we deliver to site on over 10,000 products. And all of this we offer only to the Trade.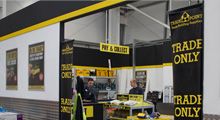 Trade Only
TradePoint have set up an area dedicated to the Trade inside B&Q stores. You'll find over 130 Trade counters with thousands of essential products behind where the staff will pick your order for you. Plus you'll enjoy Trade only discounted prices on over 4,000 lines you pick from the B&Q shop floor. We've even allocated you your own car parking spaces, right by the exit too. We've combined the best of a local builder's merchant and up to 40,000 B&Q products all under one roof. And there's even a dedicated TradePoint team to help you find the right tool for the job - just look out for the grey uniforms.
Order and Collect
We want to look after all our Tradesmen so in some of our smaller B&Q stores where there's not enough space for a TradePoint counter we've set up an Order and Collect service so no one misses out. You fill out an order form as you would normally, hand it to a member of staff and they'll order your products in for you, and you'll still benefit from the Trade Only prices. When you select from the shop floor and pay at the till, just remember to swipe your TradePoint card to enjoy Trade only prices.
To find out which TradePoint service your local stores offers, please refer to Find a Store.
Trade Brands
TradePoint provides you with all the big brand building supplies you need - and all under one roof. Over 12,000 products are available from brand leaders including:
Dulux Trade, Leyland Trade, Purdy and Soudal
DeWALT, Paslode, Evolution, Bosch Blue and Hitachi
Irwin, Irazola, Rothenberger, Spear & Jackson and Rubi
Speedfit, Worcester Bosch, Honeywell, Floplast and Biasi
Hippobag, Metsawood, Tarmac, Richard Burbidge and Mountfield
LaFarge, Artex, Gyproc, Sika and Thistle
Hotpoint, Astracastm Grohe, Cooke & Lewis and Cata
Bristan, Triton, Armitage Shanks, Ideal Standard and Mira Showers
and many more...
Many of these brands you won't find on the B&Q shop floor, so make sure you speak to a TradePoint member of staff first and they'll guide you in the right direction. Whatever your Trade, we've got what you need.
You can trust TradePoint for high quality, powerful and long lasting Trade supplies.
Trade Prices
There's now no need to keep renegotiating prices with your local merchant. At TradePoint you'll find our prices published here Online and in our free in-store catalogue are fixed, always very competitive and ex VAT and this transparency is why we've already got over 1 million happy TradePoint members.
You'll also find we offer hundreds of products like nuts and bolts in tough unbranded packaging. The savings made by not putting fancy logos on the packaging is then handed down to the Tradesmen meaning they're getting even more value for money.
And don't forget to ask for Trade discounts on B&Q Kitchens, Bathrooms and Bedrooms. We'll even offer dual invoicing too. What's more we now offer rigid kitchen carcasses on 25 IT and 22 Cooke & Lewis kitchens for the complete Trade offer.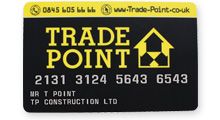 Trade Only Membership
TradePoint membership is only given to people in the Trade.
As a TradePoint member you get access to Trade brands at Trade prices with fast service from dedicated, cheery Trade-only staff who know their stuff. It's the quick and easy way to shop for what you need, at a no-nonsense Trade-only counter.
Over 12,000 products
We're your one-stop-shop. We've got the Trade building supplies you need at the best prices, all under one roof at handy locations nationwide.
Find TradePoint at over 300 B&Q stores nationwide.
Our TradePoint catalogue has over 12,000 products.
Order what you need at the counter, online or over the phone with our Special Order Line 0845 605 6666.
Open longer hours
With TradePoint you're not stuck trying to work round normal shop hours. You can get the stuff you need when you need it. We're open when others aren't.
Open 7 days a week
Open Early til Late
Open Bank Holidays
Save Time
We pride ourselves on the speed and efficiency of our service, we'll pick your order fast to get you on your way. But if you're looking for a quote or some helpful advice, we'll sit down and have a chat over a friendly cuppa too! Ordering Online is fast too, order by 5pm for delivery direct to home or site next day.
Save money
Make your money go further with Trade-only price deals, special offers and free services.
To help you on your way TradePoint offers its members access to TradeUK where you can apply for a Credit Account giving up to 60 days credit to help with your cash flow. And with TradeUK you can also build your own website for FREE, find Trade services such as insurance for your van and tools plus much more. Make sure you check out TradeUK for stuff to keep your business simple.
TradePoint membership also comes with lots of other money-saving benefits too.
Click on any of the services below for more information or click to see what's available at your local TradePoint store.
It's easy to join.
We'd like you on-board. Sign up today online or go to your local TradePoint store and fill in the form.