BG Smart White 13A 2 gang Socket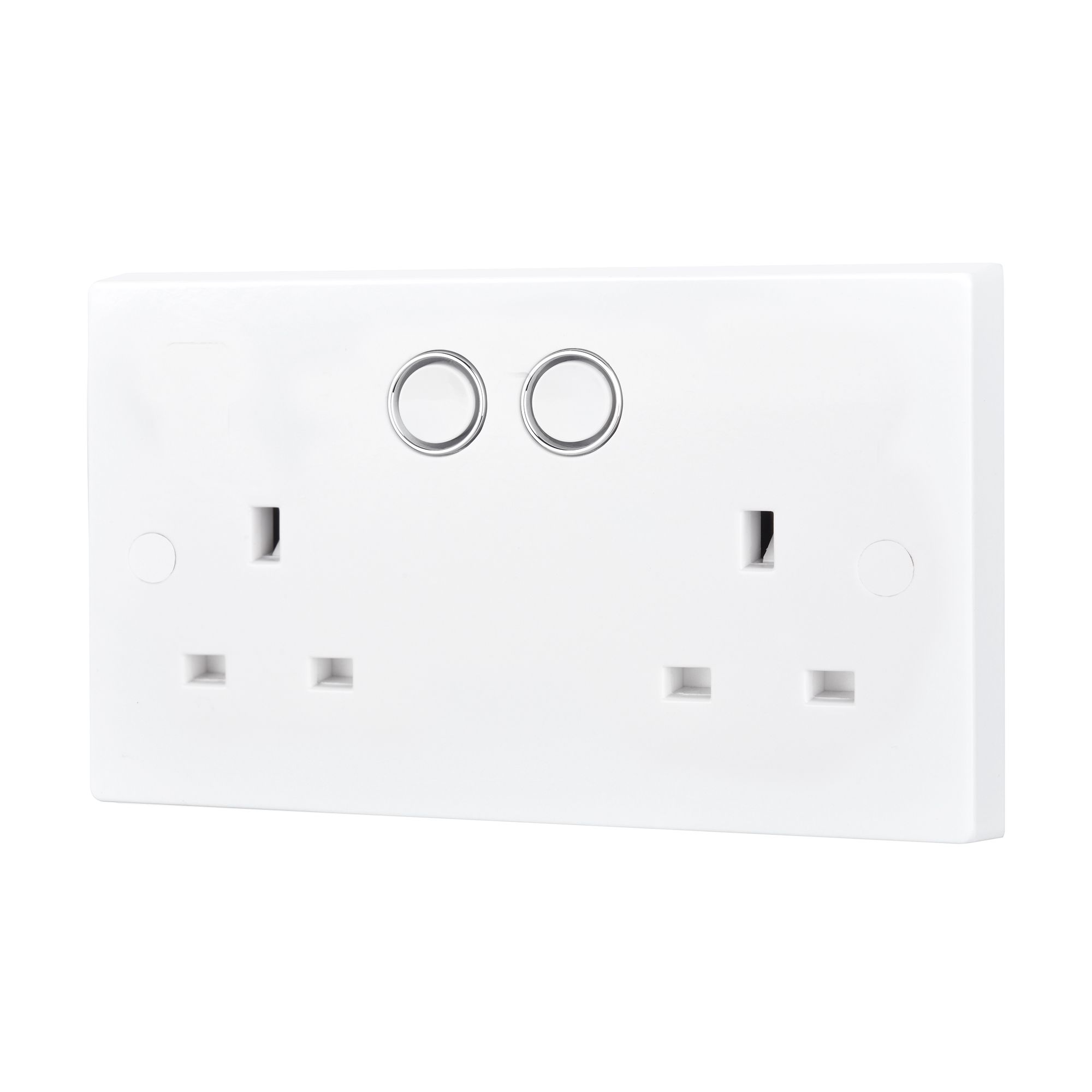 Product details
Product information
Smart socket that controls power via the BG Home app or voice control. Continue to work when internet connection is lost.
Only fittings included
Guarantee - 3 years
Colour-coded terminals
Features and benefits
Control and schedule power in the home or outside via touch, voice commands or APP. No expensive gateway hub unit, no expensive cloud costs or subscriptions.
Raised square profile
Screwed faceplate
Requires a 25mm back box
Angled in-line terminals with backed-out captive screws
Compatible with Google Home, and Amazon Alexa for smart home integration
2.4GHz WiFi signal
Specifications
| | |
| --- | --- |
| Amp rating | 13A |
| Brand | BG |
| Colour | White |
| Insert colour | White |
| Model name/number | 922/HC |
| Number of earth terminals | 2 |
| Number of gangs | 2 |
| Number of poles | 1 |
| Pack quantity | 1 |
| Power voltage supply | 240V |
| Profile | Raised square |
| Range | Smart |
| Screwed/screwless | Screwed |
| Smart home compatibility | Google home & amazon Alexa |
| Switch position | Outboard |
| Product code | 5050765176606 |
Really great for smart home
I bought these to switch on my office heater early in the morning. I've been very impressed that I could add them to Home Assistant and create some quite sophisticated automation with them. Definitely good value for money! Don't be put off by the app
Fiddly to set up, but does the job
I bought this to replace a Frankenstein's monster of a tangle of individual smart plugs and extensions and this has not disappointed. It was fiddly to set-up with a Nest WiFi router, as the switch is 2.4Ghz only and the router does not allow manual toggling between 2.4/5Ghz - the solution was to turn off my home WiFi, then create a WiFi hotspot on my phone with identical name and password as my home network. I then used another phone to connect the smart plug up to the hotspot with the app. Then switching off the hotspot and turning the home WiFi back on, the switch connected with no issues.

Despite this longwinded process, the plug works exactly as expected, linking into the Google Home app and working fully as expected. Installing the switch unit itself was a simple case of matching the L/E/N wires as the old switch. The buttons glow blue when switched on which is fine in the living room, though may be irritating in a dark bedroom. Both left and right sockets can be controlled independently, from both the BG Home app and Google Home.

I would certainly recommend, especially as these are much neater than the traditional smart plugs, though be aware of the extra steps you may have to take to get the smart feature up and running.
Good quality, simple to use, good instructions
ColinTheChap - 1 year ago
This product needs the BG app, and preferably some smart control like Alexa or Google Home to get the full potential from it.
It is very easy to install physically as a normal power socket would be. High quality connections etc.
As for the app setup, this is one of the simplest I have yet seen and works well if your WIFI reaches to the intended install location (needs to be reasonably strong signal). The app is reasonable, but not worth using once setup - use Google or Amazon smart control instead.
You can name EACH of the switches independently and thus control them independently, or collectively (by using the entire socket's name). The app is a little counter intuitive with the naming part though (thus the use of Alexa/Google Home to do the controlling thing) as it is simply quicker to access/control.
The sockets switch on and off pretty quickly (sub second) when using the app / voice control, and instantly when pressing with your finger.
You can press the buttons if you lose your voice :) but that does mean getting up like in the old days!
Each of the power switches (circles) lights up when powered on - you can alter the brightness. Each socket can be setup on a timer for on/off or both etc. You can also set a delay for on/off – e.g. turn on in 15mins. A random timer is also available, which I guess is ideal for those who would like it too like they are home, whilst away on vacation.
This device can also be used whilst not at home – e.g. I turn on my coffee pot whist on the train, just before I get home … it's like having servant, for £20! I feel like a King! :)
I bought one to see how good/bad these are, as I have used the plug in types and extension leads that are smart controlled, and they work fine, but this is a little more permanent and less bulky than an additional plug/socket in to wall. They are a little more expensive than the movable non-permanent ones, but the safety increase of not having yet another thing plugged into a socket as well as the space reduction (ideal behind cabinets etc) where space is at a premium is worth them being about twice the price of the cheapest plug-ins ive found so far.
Completely useless
First the socket only works on 2.4 GHz so I had to disable the %GHz band on my router.
When you choose the network on the app the menu never switches back to the app it stays in the android menu if you pres back button to get to the app you have to choose the network again and so on in endless circle
Avoid like the plague it is a complete waist of money