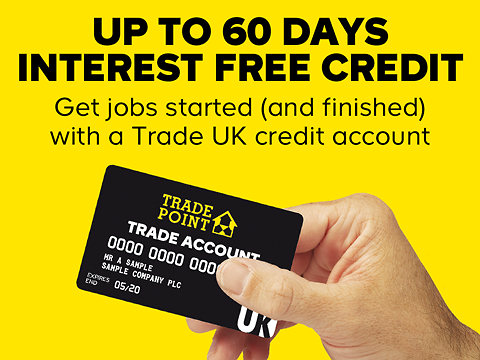 Apply for a trade credit account today and get...
No interest on EVERY purchase
Up to 60 days to pay as standard
Up to 90 days to pay for Kitchen Fitters opening a Kitchen Pro account
Flexible credit limits
Extra cards for employees
Monthly statements
An easy way to pay at over 900 locations nationwide
Interested?
Before you begin an application in-store or online, please make sure you have the following to hand:
• Your company info (like its Registration Number if it's a limited company, PLC or charity)
• Details on the company owner(s) or partners, if you're a sole trader or general partnership
• Your full trading address, contact details as well as an email address
• Your bank details
• The names and addresses you want to have trade cards issued to
If you are a kitchen fitter looking to apply for a Kitchen Pro account giving extended payment terms then please speak to a member of team in store who will be able to help.
Apply online
It only takes a few minutes to apply for an account and you could receive an instant response.
The easiest and fastest way to get your application to us is to apply below on the Trade UK website.
To speak to a member of the Trade UK team on the telephone please call 0345 603 8389
T&C's apply. Credit is subject to status. More information can be found at www.credit.trade.co.uk